Hooray, my elliptical has been restored! You'll have to check out the video to see what was causing all the fuss. Hee hee.
Whew, it's been a long time since I blogged. We've been working and playing hard for the last several weeks, so I haven't had as much time to blog and keep up with my SparkBuddies. You're probably out there doing the same thing, so I know you understand. I figure one of the big pieces of Spark is making your life an adventure and thatís hard to do if youíre stuck, sitting in front of a screen, right?
If I had to write a "What I Did Over the Summer" essay this fall, I'd want it to say, "Everything." Making my summer more active has made it doubly fun--hooping in the park, skating, glow stick swimming, Mini Golf Mountain; it's all been fun. Now we're getting ready to head out to Colorado for a small family reunion. I'm hoping to add hiking and tubing to the list--oh, and hooping in the mountains, of course. If I can get my SparkDad to do a vlog with me, I'll be tickled pink, or SparkOrange.
It's highly unlikely that I'll make my Wonder Woman goal by the time I go to Disney in August. But you know what? That's totally fine. I'm still hoping to hit the 50 lbs lost mark by the end of the summer. That'll make me a very happy camper. Sometimes, when I'm on my way to one goal, another one pops up. That's what's happened this summer. Working on the food/nutrition aspect of Spark and taming the Oompa Loompa sweet tooth has become my summer project. Meal planning and once a week shopping is becoming a habit. This is a MAJOR victory. I'm talking "sit on top of a convertible, ride down Main Street and throw bubblegum to bystanders while clowns launch confetti cannons" victory. Daily tracking has helped me tinker with my plan and see where I need to make changes. De-Wonkafying my summer Oompa Loompa mentality has also been a plus. Turns out a bowl of fresh fruit is way more satisfying than chewy sweetarts, but very hard to sneak into a movie theatre...
So, even though I've been a little quiet, I'm definitely Sparking. Today will be Day 476 of my exercise streak. I'm planning, tracking and staying active in my 5% challenge. The scale has moved in a friendlier direction. I just keep hammering this out, making it something that's totally livable for me. That's key for me, no extremes, just happily bouncing along.
Speaking of bouncing, did you check out our hippity hops in the vlog? Oh, I hope the HoopCam didn't make you queasy. Hubs gave me a GoPro camera for our 21st anniversary and I just HAD to stick it on a hoop. I thought it'd be fun to show you some of the footage from when I was playing around with it. And Gunner's special cam collar came yesterday, so he'll be able to film his own photobombing escapades now. When I said we needed our own camera crew, I wasn't necessarily thinking of the four-legged kind, but this'll work. Hope you're making your summer FUN!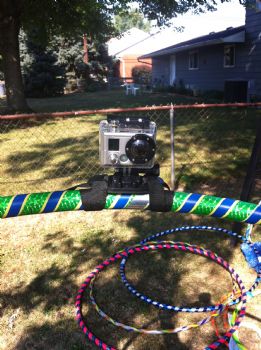 hOOpCAM