I saw the new sweepstakes on SP for a before and after photo. Well, I know I am not at maintenance quite yet, but I am only 5 pounds away from the weight I never want to be higher than again (does that make sense? When I reach 155lbs, I don't want to be higher than that again) and I'm only 10lbs from my official goal weight of 150lbs.
So, maybe I don't win because I'm not officially at "after" yet, but dang am I close!
Here is what I sent in:
BEFORE

If you've read some of my other blogs, you've seen that picture before.
AFTER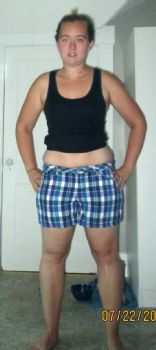 Taken this morning. Excuse the morning hair, it's Sunday and I don't worry about my appearance till after I workout haha.
Side note. I lifted up my tank to show the hips and almost-lack-of love handles. The tank wouldn't have done my stomach area justice.
Those shorts are size 10. Those are the first pair of zip up shorts that rest above the knees that I have EVER worn since probably middle school. I don't feel the least bit self conscious in them!
I also had to answer the questions SP asked for the sweepstakes:
Username: KSchraut
Name: Krystal
Age: 22
Hometown: Barre, VT
How long have you been a SparkPeople member?: 10 months
Current Weight : 160lbs
Starting Weight : 235lbs
Goal Weight : 150lbs
Why did you decide to sign up for SparkPeople to help you achieve your goals?: I wanted to be held accountable during my internship semester for my undergrad. I had lost 30pounds on my own during the 9months prior to joining SP. I knew I needed something else to keep me going.
Which SparkPeople tool has helped you the most throughout your journey?: Trackers and Teams. Without my trackers, I wouldn't know exactly what is going into my body (though I have become very good at estimating and knowing whether I'm over or under my calorie range). The teams I am a part of keep weekly or monthly challenges which helps me shake up my routine and keep me motivated.
What has been the biggest obstacle for you overcome and how did you do so?: Remembering that it is OK to slip once in awhile. At first, whenever I would 'fall off the wagon' I would be very upset and it would take me awhile to get back on track. Now, I constantly remind myself that this journey is forever, if I slip today it doesn't mean I ruined the next week, it just means I need to stand back up and dust off the dirt.
How do you plan to continue leading a healthy lifestyle?: Keeping my portions in check, continuing to exercise for at least 150mins per week, switching my routine every couple of weeks.
What advice can you share with other members about reaching their dreams to lead a healthier, happier life?: Take it one day at a time. It is good to have weekly, monthly, yearly goals, but don't let one slip today put you in a slump for the next week. Acknowledge the slip, know that no one is perfect, and keep moving forward. Goals are great to keep yourself motivated and if you change them every so often you'll never get bored!
And that's all she wrote!