Friday, July 20, 2012
This has been a pretty damn good week.
I injured my foot in the beginning of the week so I was forced to use another type of exercise besides running. I love to run, I love that out of breath-I am gonna die feeling I get while running. It is crazy huh? To think that ME--a girl who has avoided exercise since fricken high school loves to run now is just incredibly awesome to me. I was the punk rocker who NEVER went to gym class (any type of strenuous exercise was unthinkable because it would most likely mess up my hair that I spent at least an hour on in the morning--making sure that my hair stood straight up took at least half a can of Aqua Net Hairspray a day and I wasn't going to waste that by doing exercise! heh heh
(My best friend and I in high school, I'm the one on the right--btw this photo was used in a high school Abnormal Psychology book!)
Anyway, back to the topic I was writing about...I was forced to try other types of things for my exercise this week. Usually I run/walk every other day with one day of rest a week. This week I used the rowing machine, did my strength training, and tried some workout videos. I think I lost some pounds too--I don't count what the scale says until it shows the same loss for a few days in a row. I know that that scale has nefarious plans regarding me and my wieghtloss and lies to me a lot...
Also, on totally different subject--my sons kitty ran away about a week ago. My kids were pretty upset, and I was too BUT...this cat is an eldritch abomination. He waits for us all to go to sleep and then tries to kill my husbands cat, he pees in my shoes and on any artwork I am currently working on if I leave it out, he attacks my daughter at random times and she runs screaming. I have caught this damn cat ROLLING in his own litterbox. To put it simply--he is insane. I spent hours walking around the block calling him (Oh and his name is Mr. Shnepperman so you can just picture what it felt like walking all over the neighborhood yelling "Mr. Shnepperman! Mr. Shneppy! Where are you?!) lol... My neighbors hate me anyway so it was actually kinda fun.
Well the cat came back. His body parts that used to be white are now completely gray and brown with some kind of muck and he looks like he was struck by lightning. Anyway--everyone here was happy to see him nonetheless and he hasn't wanted to go out again since he got back.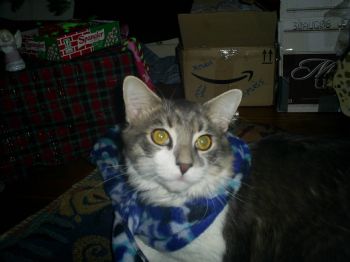 Like the guy in ElderScrolls says: "he looks like a bit of a dandy but he is skilled with a blade!"