1) I was in my car at 1502. Heck yes! It got crazy busy at work near the end of shift, but I powered up (literally jogging from med room to nursing station, etc to shave some seconds off... Shh!! Don't tell Occupational Health!) and got'er done!

2) No fast food - although I was starving when I picked Brad up from work and we hit Walmart - a McDs ice cream was calling my name! Mostly all healthy meals and snacks, except my evening snack was fruit with chocolate dip, just over half a serving of potato chips and some diet caffeine free soda (everything measured out of course). Stayed within all ranges! And Brad wanted to make plain rice for supper, but I was very low on sodium for the day and wanting salt, so we bought one of those horrible-for-you Uncle Ben's flavored rice thing. A nice treat for my supper today and lunch tomorrow, but not a regular thing.

3) I was planning to go for a run or do Spark videos today, and that didn't happen. I had a nap as soon as I got home from work (so drained as per usual, plus a horrible sleep last night, maybe 4.5 hours total, with totally messed up dreams in-between). Then picked up Brad from work and had supper. By this point I didn't feel like doing a real workout, but there are some insane weeds building up in my front flower bed, so I decided to attack those. I thought it would take 20 minutes or so, and I would count that as my workout. It took 40!!! There were tons and tons (filled my green bin) of weeds, including 15 or so of dandelions of this size and monstrosity!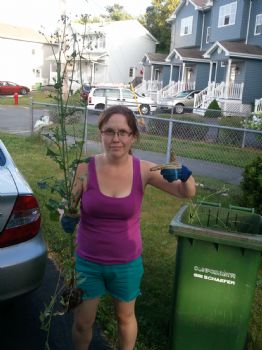 Probably 4 ft tall! Crazy I let them get this bad, but I super hate gardening. You'll never see a blog talking about me planting some pretty azaleas or whatever you plant. No, Brad didn't help (he took the photo) but he cleaned the kitchen, took out all the garbage, recycling, and compost for collection tomorrow morning, and made my lunch for tomorrow. It was kind of nice doing it on my own. Oddly cathartic ripping those things out of the ground!

4) 10 cups of water. Took my prenatal vitamin. Posted on the Fit and Pregnant board. Had a healthy breakfast.

5) Blog complete! emoticon

Off to finish watching Kung Fu Panda 2 with Brad and to design my agility and burn circuits for tomorrow.
Last 7-3 is tomorrow... ay carumba, can't wait!!!