Thursday, July 19, 2012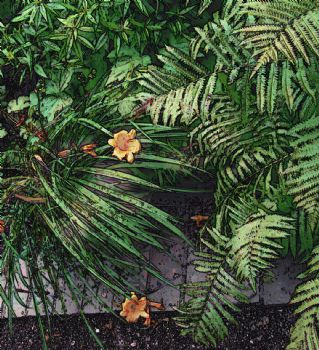 I am walking in a yard. At first, I'm not sure where it is, but as I move through it, drawn to overgrowth in the back, I realize it is my own and I havebeen unaware of that burgeoning tangle of growth for some time. I want to look and see what it hides from me back there. I have always been pulled to what grows out of sight.
I am careful pulling apart brambles and overgrowth. Suddenly I see a clearing through the last tangled branches! I see it is a badly overgrown vegetable garden, with fruits too long-born rotting on the branches, other vegetables stunted, or strangled by weeds.
I am taken aback as I realize this is MY garden I began and have forgotten I had! I work frantically pulling weeds a way, plucking the few fruits of any small promise from the plants, and thinking furiously of ways I might rectify or salvange any of this forgotten garden. But it is too late for this garden.
I wake up, and realize a deep sense of deja vu: I have had this dream before, and forgotten it on waking! But this time, I realize and accept what I must do, and more, the nature and spirit with which it must be done: care, consistency, and commitment, every hour of of every day. I have come a long way.