Thursday, July 19, 2012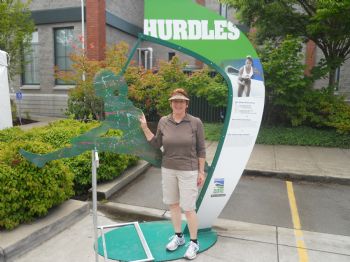 Ever since I was in high school (Richard Nixon was president, that's how long ago it was) I remember being self-conscious of my weight. Even though I was an athlete (before it was cool and OK for women to be athletes) I always saw myself has "big" and "heavy". My body didn't conform to the cheerleader type or the "Twiggy" stick figure form. I was and still am muscular with a broad frame. One of the memories that sticks with me is the yearly fitness "weigh in" at school. We were herded around to different stations where we were weighed, measured, had our eyes checked and generally looked over the any obvious health issues. I would stand in line dreading getting on the scale. Once on the scale they would announce loudly to the assistant what the weight was so everyone could hear. It was torture for me because it seemed, I know now that this isn't true, to me that all the other girls weighed in at 95 pounds or 103 or a whopping 110. When they would announce my weight, at that time it averaged around 140, I felt like a gargantuan girl. The one I remember most was when the PE teacher remarked "Wow, that's a whopper" as I stepped off the scale! Needless to say I was embarrassed and humiliated. The next year I got wise to the game, got hold of my own card, wrote down my own weight and skipped the scale line altogether!
I share this to illustrate what many women I know go through with our bodies and our images of ourselves. When I look back at those days and I see pictures of myself in high school I admire my body. I was lean, muscular and well-built, obviously athletic. But instead of being proud of my body I was ashamed of it, all because of that little number on the scale. We are so much more than that number and I mourn the fact that it's taken me this long to realize that!
As I continue this journey of self-awareness I hope to begin focusing on my fitness and strength. Putting the scale as the number one focus, for me, isn't the best way to go. If I maintain my exercise and activities, do my strength training to build muscle and strengthen my bones, the scale issue will resolve itself. Therefore, I am changing my tracker today to track exercise minutes instead of pounds lost or current weight. It's my first step to getting healthy and another step along my journey to self-acceptance and ultimately a more healthy and longer life!
Everyone, do this for yourself, not the scale or others, for you!