I just got done reading all the comments on my blog from yesterday, as well as the many comments on my status update asking for encouragement. All I have to say is you guys are great. NO Physician's Weight Loss plan could possibly be as good as you all. I remember when I investigated having WLS, back in January of 2007, I was excited at the prospect of finally losing some weight. But just like Dorothy in The Wizard of Oz ,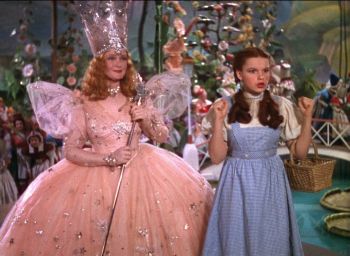 for some reason I refused to acknowledge that I had the power inside of myself to do that all along. And the same thing is true now. I don't need anything other than Spark, my friends here and my own knowledge and determination about what it takes to lose weight and keep it off.
Bravenewgirl wrote a wonderful blog on Sunday (it's a popular blog, you should be able to find it there, if not, here's a link: http://www.sparkpeople.com/myp
age_public_journal_individ
ual.asp?blog_id=4971301#co
mments), about Realizations and Observations. I could have written it, only I wouldn't have written it nearly as well as she did. Most everything she said rang true to me, but this statement in particular stuck out:"The reality is FOR THE REST OF MY LIFE I WILL HAVE TO BE VIGILANT AND ACCOUNTABLE FOR EVERYTHING THAT GOES INTO MY MOUTH."
I really thought I had that down. And I have not gone nuts with my eating. When I go to a restaurant, I never just pick whatever sounds good. I analyze what I think might be in a selection on the menu, even the salads. If a salad is loaded with meats and cheeses and heavy dressing, it can contain as many calories as a fried entree. I eat a lot of fruit. ALOT OF FRUIT! Especially now, when really good fruit is locally available. Friday at the grocery store I bought 10 lbs. of Bing cherries. They were on sale for $12.99--so how could I resist, when they were selling elsewhere in the same store for $3.49/lb.?? BUT THAT'S A LOT OF CHERRIES! I gave some to each of my daughters-in-laws but still have a lot of cherries to eat before they get moldy. I do love them though. I Googled some recipes and there's a lot of good ways to use them up, but for now I'm just eating them each day. I think I would need to invest in a cherry pitter if I wanted to make some of the recipes I found. I'm also enjoying peaches right now. They are so sweet and juicy, and only about 50 calories each. I practically consider them FREE food! I know in WW, fruit is free now, so even though some of is higher caloried than others, I figure a peach, at a mere 50 calories, ought to be FREE food, right??? My snacks other than fruit are where I get into trouble. Usually they are healthy snacks, but I just eat too many of them. So they end up being not so healthy for me!
I bought several bags of potato chips for our 4th of July party. I did not eat any of them, and 3 bags are still in my kitchen. Hubby did open one last night. I know both he and son like chips occasionally, but I really hate having an OPEN bag of chips in my house. If they're not opened, for some reason I can resist. Today I bought one of the unopened bags to work and set it in our coffee room. Of course I can go in there and eat them too, but I won't. This morning I put a few chips in hubby's lunch from that opened bag. Sometimes I will pop ONE chip in my mouth as I put them in the sandwich bag. Today I told myself, "If I don't eat even that ONE chip, I will be able to recommit, get this weight back off and MAINTAIN!" And I didn't eat that ONE chip! That is a victory. Victories at this point are moment by moment. Every time I say 'NO' it is a victory. I tried to describe to hubby how hard it is. People see me not eating dessert, or not eating a donut (like at our Office Birthday Coffee last week), and think nothing of it. But everytime I resist it is difficult. It is a constant struggle, one I have talked about here until I am blue in the face and I'm sure you are all tired of hearing about. I was worried about maintenance long before I ever hit goal weight. I knew it was going to be hard. But as Doodie59 (http://www.sparkpeople.com/my
page.asp?id=DOODIE59) pointed out in the comments I got yesterday, "Keep in mind that goal you have of dancing at your granddaughter's wedding." SO SO TRUE! That image needs to stay in my head, alongside that image of my "before" picture holding that bouquet of roses.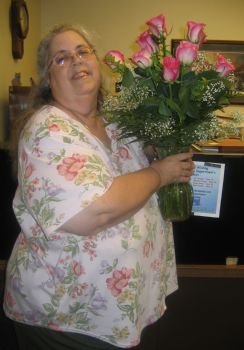 If looking at that picture won't stop me from over-eating--NOTHING WILL!! SCARY!!
I ADORE my granddaughter and would do anything for her. She is the BEST thing that ever happened to me. And I want to be at her wedding, able to DANCE the night away. Or at least ONE dance! Let's be realistic, I will mostly likely be in my 80's at that point!
Two of my favorite bloggers, Shauna Reid at http://www.dietgirl.org/ and Jennette Fulda at http://www.jenful.com/ are both wonderful writers. They chronicled their weight losses, (Shauna lost about 175 lbs. and Jennette lost approximately 200 lbs.) and they both even had books published that they wrote about their journeys to lose weight. They both kept their weight off for a couple of years, then slowly started regaining. I know Shauna has stopped her gain at 50 lbs and is trying valiantly to take that back off. I'm not sure about Jennette, she doesn't talk about her gain in her blog anymore, but I'm hoping she didn't gain it ALL back yet. They used to be my ideal role models. I thought they were invincible and their success was what I was dreaming of and hoped for. (Although one time I commented in Shauna's blog about how she was my ideal and she almost scolded me. She said she was not any better than anyone else and struggled mightily.) And then I got there too--I hit my goal weight. I kept it off for a year (15 months as of last Sunday!), but now I too am struggling. I know I need to stop the gain before it becomes 50 or 100 lbs. or more! I know I will never be a role model for anyone and those of you who consider me an inspiration should know that I struggle just like you. But the fact that you do think of me as a success motivates me to try my hardest and I really appreciate that! I would never scold you for saying that I am your inspiration--because if it helps you--I'm all for it! We all need to see someone who has achieved their weight loss goal so we can hope that we can do it too!
Doodie 59 also said (I LOVED ALL YOUR COMMENTS, even if I don't personally reply, they mean the world to me) "You have literally saved your own life with your efforts over the last three years." I believe that with all my heart. I was "digging my grave with my spoon" as my dad often said about an aunt of his who died long before I was born. You see--obesity runs in my family. I wish they would do more studying about what causes obesity. I don't think it's all emotionally based. I don't eat from fear or anger or even boredom (although admittedly sometimes I do eat from boredom) so much as I eat because I truly LOVE food. It's way too important to me. I have observed skinny people at restaurants when I go there with them. We have a skinny (and when I say skinny--it is always a compliment--sometimes skinny people don't realize that us fatties and former fatties want so badly to be skinny that we think of the word as praise not as a slam) family friend who bowls with my sons and hubby on their Thursday night league. We go out to eat every week after bowling, and take turns picking the restaurant. When we get to the restaurant, my sons and I attack the menu, practically salivating over the choices and looking forward to having something good to eat. We discuss the various menu choices and share what we have selected to order all before the waitress comes to our table. While our skinny friend, will sit down at the table, converse with the rest of us for a time, and eventually casually pick up that menu and decide what to order. Very often he doesn't clean his plate. We tease him good naturedly, but I always remind the others that he will live far longer than we will with his eating habits. Of course now I hope to live longer like he will....but I have to remember that his eating habits are natural to him, while I have to fight my desire to overeat every step of the way.
The newest success story from Extreme Makeover WLE, Ashley, has a blog too. She has a skinny family and her mother didn't seem to be very supportive of her weight loss attempt, at least at first. All of her siblings are skinny, and she has old pictures of her growing-up years with her family. She was heavy from birth it appears. So why is that? Why are some people just prone to be heavy while others are not? Of course it's the fact that we over-eat, but WHY do we over-eat? The scientist that uncovers that gene or whatever it is that causes that behavior will be a millionaire!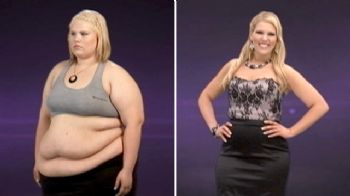 I was just down in the coffee room and I may have to rethink my decision to donate that bag of chips to my own coffee room. Someone has opened the bag and they're sitting there on the table, just begging me to have one. But I just toasted my bagel thin and walked out of the room, without taking even ONE chip! VICTORY! Last year after the 4th, I remember begging hubby to take a bag of leftover chips to his work. That way I am not tempted. He hates to do that though so this year I took them to my own work. So far so good--I'll keep you posted. I eat lunch in that room too! YIKES! I think next year I will let someone else bring chips to our party on the 4th. It's the only time of year that I ever buy them. They may be my greatest temptation!
I have so much joy now in my new body--I never want to lose this freedom I have regained!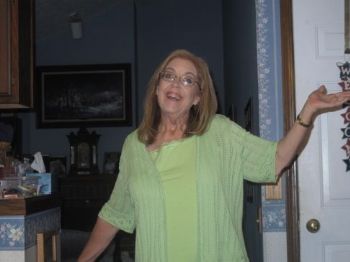 As of yesterday--I am back on the "wagon." My only snacks were one peach in mid-afternoon and a 50-calorie block of dark chocolate after dinner. I ate sensibly at my meals. This morning the scale was down a pound. I know at this point it will take weeks or even months to drop this 10 pounds that I want to lose, but I also know every moment that I make the right choices adds up to hours and days and weeks of eating right and losing weight. I did it before and I WILL DO IT AGAIN! That is my promise to all of you who support me. THANK YOU!