Tuesday, July 17, 2012
Good morning from Barrow! Today is my last full day here as I fly out tomorrow on one of the 2 flights out of here! (assuming we aren't fogged in.. like today) I will be REALLY bummed if I get fogged in and am delayed. As it is, I wont' get home to Seattle until 7pm!
I'm proud to say I've been great with my workouts while here. Running every other morning and walking the other morning. On walking days, I'm making sure to get in a ST workout of some sort back at the hotel. Thank goodness for bands, fitness magazines (with new ideas), fitness dvds and online resources!
Yesterday I had a "day off" from flying (the first in 5 days) and it was much needed. I only did walking yesterday but in addition to my usual morning walk , I also had two pretty brisk walks (considering cold and wind) to the grocery store ~1 mile away.
I'm going to try and eat low sodium and drink lots of water (post flight today.. IF we fly since the fog is so bad) and tomorrow! and look forward to seeing what the scale says when I get home!
Hope everyone in SP land is enjoying their summer and having a great week! It was 38 degrees again today with wind while we were out at the plane doing a safety briefing.. so I am actually looking forward to my TX trip on Friday and 100 degrees!! That should shock the system huh!?!
I'll leave you with a couple of pictures from my recent activities.
toodles from the North Slope!
Barrow and summer ice (a rare view)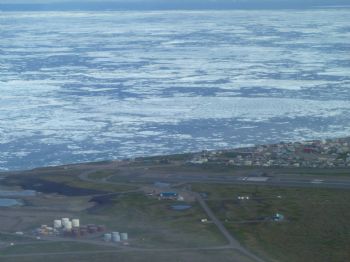 fog fog and more fog!! Not seeing whales through this stuff, but don't worry we eventually found some open water!