Truth

Tuesday, July 17, 2012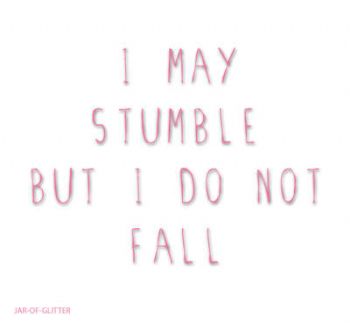 I have not fallen. I am still here.
This morning I weighed 212 pounds, which means I have gained back 14.
That is the hardest thing for me to write. It is so hard because I haven't felt like this in over a year and a half. The feeling of being lost. The feeling of not knowing what I'm doing. Am I doing the right things? The things that I am eating, can I eat them for the rest of my life? I do know one thing, I do not want to go back to the unhappy person I was before.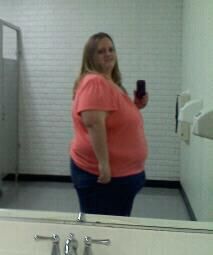 So yesterday I decided I would start completely over. I love the spark app, but I decided to download myfitnesspal, just for something different for a while. I want this so bad. I think slowly but surely my mind is going back to the right place. Yesterday was great, today is going even better.
I can do this. We can do this.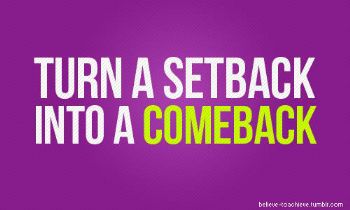 Member Comments About This Blog Post
PIXIECHIC1
just keep coming back! You can do this! i weight 239 and have not lost in 2 mo. something is up, but i don't know what - but i know i don't want this and will continue to keep at it - as you will too! You are here and you are letting people know where you are at and that is a good thing. Continue to let people in and continue to do what works. The tracker - so important to keep honest. To be a winner at this do what the winners do. Follow the people that are successful at this and you will be successful also.Good luck!


1892 days ago

MOMMY445
you can do this! you are worth it!


1892 days ago

HEARTS116
You can do it!!!



1892 days ago

BARBARAROSE54



1892 days ago

TERRIJ7
As long as you're here and you keep trying, you're in the right place. Don't give up--it's a marathon, not a sprint--just keep taking those little steps and you'll get there.


1892 days ago

PATRICIAANN46
Good for YOU!!!


1892 days ago

GALINAZ
It's a major shock to your body and mind with your heart issues and maybe you are experiencing the "loss" of who you thought you were. Be kind and gentle to yourself as you grieve and take it one day at a time, you can do this.


1892 days ago

LINDAK25
You CAN do this. Some days are easier. Some days I tell myself that I just have to get through this day, this hour, or this moment. Like the ad says, "Just do it." That's what I'm doing today. You know what to do.


1892 days ago

IAMAGEMLOVER



1892 days ago

JUSGETTENBY42



1892 days ago

SAINTBETH
Don't give up. We CAN do this!


1892 days ago

CLIMBERS_ROCK
I'm in the same boat. I reached my goal last year and now I'm up 10 pounds. I can't seem to make progress. I do believe in both of us. We can do it if we just keep our eye on the end goal and stick with SP.


1892 days ago

VOLLEYGIRL77
You can do it!!!


1892 days ago

LAURIE5658



1892 days ago

SJKENT1


Cheering you on to your victory!!


1892 days ago

TYANDCARSMOM
Michelle,

You are not a failure... you are an inspiration. Your hosnesty & spirit are amazing. We all have had set-backs, the trick is to get back in the fight. And by posting on here & your FB page... proves you still have some fight in you!


1892 days ago

SPECIALGURL7
It is like riding a bike. If you fall off, you get back on. The only way you fail is not to try. You continue to try, no failure. Just keep pushing.


1892 days ago

ELLENBERRY
You can do it! You are amazing!!


1892 days ago

KTISFOCUSED
Michele,
I took a peek at your sparkpage and girl, you have done amazing. You have not failed, you are just readjusting and that is ok. You are searching for what you can attain for life which is so important in the long run. Also, let's face it. We get in ruts and so I applaud your decision to try something new. That will get you re-excited for your journey and you don't have to leave SP and the support of friends. You can just add the new one and have even more support. You are a beautiful girl with so many blessings and I personally am so impressed with what you have done so please don't beat yourself up, you are a definite success story and no one can take that away from you.


1892 days ago

TRYINGHARD54
I have fallen on and off the wagon so many times I had to get a new wagon. lol So, I understand where your coming from. But the most important part is. You haven't given up...


1892 days ago

MILLEDGE2
Congratulations on hanging in there and taking steps to reverse the trend back into the direction which will bring you health!


1892 days ago

JANEMARIE77
you are not giving up that's what matters change is not bad its needed find motivation where ever you can


1892 days ago

NEWMOM20121
You have the tools to turn this around. I know you can do this, look how far you have came. We are the crowd and we are cheering you on.


1892 days ago

DJSHIP46
We've all had setbacks, but you're in the right place now... just hang in there and together


1892 days ago

SIZE8NOTSOMUCH
I too have fallen off the wagon in the past, the best part is you KNOW you fell, and are getting back up!
One foot in front of the other... Slow and steady. You CAN do this.
We all can. With our friends and our faith!



1893 days ago

BESSHAILE
You will not fail unless you quit. but I can see you are not a quitter.

go girl!


1893 days ago

TONYVAND1
you can do it set small goals and allow your spark friends to hold you accountable


1893 days ago

GERMANIRISHGIRL



1893 days ago

BECKYANNE1



1893 days ago

LIN1111
I have to give you alot of credit...starting over is never easy and lots of people just give up...


1893 days ago

GARDENCHRIS
At least you are NOT giving up! We have all had setbacks here.... the difference is that we get right back on track and NEVER give up!


1893 days ago

GRAMPIAN


Good luck!


1893 days ago

PENOWOK
We know you can do this!! You've done it before and can do it again...better than ever this time!


1893 days ago

KIPPER15
Slip up and backslides happen. You can do this.


1893 days ago

LANNIEMANUEL
some times we all fall back. but keep getting up is the best thing. glad you realized that.


1893 days ago

REGILIEH
YOU CAN do it!!!


1893 days ago

SUSANK16
Hang in there - it will happen for you


1893 days ago

SHAYLAGETFIT


You have such heart Michelle! I only wish that I had as much motivation or will power or whatever it is that drives you to push so hard every day and face the realities of your choices. You will make it. I know you will because you have come so far and I have read so much on your progress from the highs to the lows and wow! Just wow! There is nothing else to describe it and I am so proud to know that there truly are people who are willing to give it their all. So when things get rough, remember to let someone know and that we here on SP are always gonna be here for you no matter what! Hugs and many well wishes sent your way!


1893 days ago

FRANCES-AGAPE

With your attitude
Michelle, you
WILL SUCCEED

You just had a
temporary setback
with the surgery
and all


Like your new main pic -
it shows more of your
pretty face

Hang in there !

WE can do it!



BLESSINGS !





1893 days ago

INTRIGUEDKI
It's crazy, we are in the same space. I am at 212 and I am ready to be under 200 and ready to be back winning like I was this past winter and spring. We can so do it!


1893 days ago

BETHEUNICORN
Same thing happened to me. :( But what matters is that we dusted ourselves off & got back in the game. We WILL do this!


1893 days ago

CORINA-MOMOF4
one step at a time - you CAN do it!


1893 days ago

SHIRE33
You know so much more now! You will get into the groove so much faster this time. Looking forward to the inevitable progress reports. :)


1893 days ago

SASSYRUNNERGURL
you will do this and you can do this I believe in you. Life happens and things change. The positive is that you realized, and are turning it around!




1893 days ago

TANYA602
You've made the move back, you know what has worked in the past, and you have come so far from the woman in the picture posted at the start of this blog. Your new profile pic is beautiful.
Stick around. You are truly making a difference and working towards leading a happier and healthier life.



1893 days ago

MANLEYSANDY
You just have to take it one day at a time! I know you can do it!


1893 days ago

WINNIE1978



1893 days ago

KOSMOS11
We all struggle... Try to cook really delicious meals with lots of veggies. Only this actually saves me from eating a lot of sugar or junk. If you make a really tasty stir fry with all the things you like in it, the temptation to eat something intensely sugary will go away. For real. Get some magazines like Cooking light or Bon Appetit for the library and go through them looking for ideas. It helps me a lot. I just don't have the imagination that chef's have and magazines offer a lot. Hang in there! Don't give up!!!!


1893 days ago

AEROGIRL1594
I'm so proud of you! We all have our set backs, but it is what we learn from them that make us truly great! I know that you can get back on track, it is only just a matter of time! Good luck!!
xoxo,
Emma



1893 days ago

AUTUMNBRZ



1893 days ago



Disclaimer: Weight loss results will vary from person to person. No individual result should be seen as a typical result of following the SparkPeople program.
More Blogs by MICHELLESMILES_