It's been a full 7 days of my 3 week 'No Sugar/Flour' streak, and I feel really good! The scale showed an even 2 lbs loss this week, which is encouraging. Of course, those are the same 2 lbs I've been gaining and losing all summer, so the real test will be next week's weigh in.
Feel free to check out my tracker for exactly what I've been eating! If you want to be super technical, I think there is a little sugar in some things I've eaten (Annie's Lite Natural Poppyseed Dressing, Laughing Cow strawberry cream cheese spread), but I've eaten them in such small amounts that I'm not concerned. (It's the spirit of the law, not the letter of the law, you know?) I did finish off the "no sugar added" Fudgsicles in my freezer, but I won't be replenishing the stash. I have had some rice and potatoes, but since those are (1) not sugar or flour, and (2) very rare occurrences, I'm also not concerned about that. The hardest days have been when I'm not called to rehearsal in the evening and I have the time to sit around after dinner and keep thinking about treats. Luckily, I don't really have any sweet things around at this point except for fruit and a couple Larabars!
Honestly, 'No Sugar/Flour' has mostly been a great way to avoid baked goods. They seem to be EVERYWHERE right now, so it hasn't been easy. Last week there were at least 2 days of birthday cakes and there were eclairs at our opening night party. I avoided all of those, despite peer pressure to "just have one piece". Sometimes you need to know yourself and just say NO!
Another thing that has been super helpful in keeping my willpower at full steam -- not drinking! I'm not a huge drinker, but all social interaction around here seems to take place at the local bar/pub (because it's the only place open after 10pm). Everyone goes and gets drinks and $5 fries after rehearsal... but not this girl! I still go if I really want to hang out, but I've been drinking club soda with lime and avoiding the food except for a nibble here and there. Aside from dealing with the "why aren't you drinking?!" peer pressure crap, that has worked out really well for me.
Exercise has been good this week too. I haven't been burning tons of calories, but I HAVE been working out nearly every day. Better to do a quick 20-30 minutes and burn 300 calories than to skip it altogether because I don't have an hour to spend burning 500 calories, right? Right! Instead of just running all the time, I've also started doing Jillian DVDs again for a change of pace.
So that was this past week! The plan for the week ahead is:
*keep abstaining from sugar and flour
*only have a starchy vegetable with dinner (sweet potatoes, fresh corn on the cob) if I have an evening performance
*work out as many days as possible in whatever time I have available
*minimal alcohol
*weigh in again next Tuesday morning (I have Wednesdays off, so this is like my Saturday morning)
Hopefully the scale will reward my efforts again next week! Have a great week, friends!! I'll leave you with a couple pics from opening night of our show...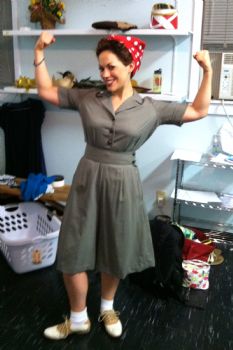 Obviously, I am supposed to look like Rosie the Riveter. Culottes and a blousy top are not the best look for me, but I do like the high waist!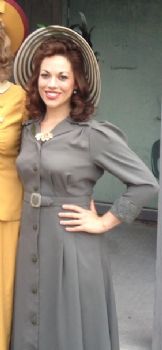 There's my cute costume! I love 1940s/50s style clothes!