Monday, July 16, 2012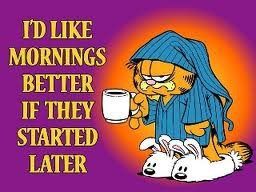 I am not a morning person and never have been.Can't stand those people who wake up all perky. Bill use to be that way but I have slowly decreased his morning perkiness.

Actually perky people in general bother me. Maybe I am just jealous
Day did not start well. Got up at 7 which I never do , went back to bed around 9 and fell asleep around 10 and woke up at 11.Then went back to sleep til 1.
Real messed up start to my day.
I forgot Bill is bowling tonight so I took out stuff to cook. So instead of a little afternoon nap I had to get supper in oven. I mixed some ground chuck I had with some ground turkey and made a meatloaf. Then I cut up a baking potato in big chunks and half a large sweet potato same way. Spray with pam and sprinkled my seasonings on it. So supper is in two pans baking.
Eating has been good so far and I listened to my tape. Tonight will be real test.
We are suppose to get more rain this afternoon. Some of my plants love it but not my coneflowers. And they are my favorite. My manarda or bee balm is blooming more each day.