Monday, July 16, 2012
Well, to make sure we're ready for vacation next week, we did a "mini" one this past weekend. 550+ miles in 2 days on the motorcycles. The roads were amazing - big, windy, twisties and beautiful scenery all along the way. We went with friends to the Pennsylvania Grand Canyon in Wellsboro, PA. It was just beautiful! And after hitting around the 250 mark on Saturday only to have me whine that I wasn't ready to stop yet (but what could he say - we were there!) he's not worried about the "hard" riding we're gonna have to do to get a 350 mile day in to start the trip. (Hey, why waste vacation time in an area we can always go back and see in a weekend, right?)
Anyway, it was beautiful, and amazing and I want to go back and visit again in the fall when the colors change!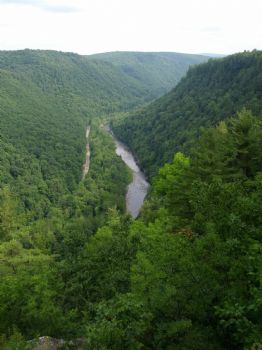 I tried uploading a pic of a house down in the ravine, but the computer wouldn't cooperate. Can you imagine waking up to that beauty every day?
Today - well let's just say not a lot of work is getting done. I have tracked down the gps coordinates for the waterfalls I want to see. I ordered a new headset for my new helmet so that I can stay in communication with the hubbers. I discovered I can replace the volume control on my speaker system on the bike for only $15. I also found out that the idiot at the post office who assured me that the amount on my money order was correct was in fact wrong and I didn't send in enough to get the passport card so they didn't send me one. Gggrrrr! NOT happy about that. I ordered electrolyte powders for the ride. (Something I wouldn't worry about except a friends wife ended up being hospitalized for an imbalance on a trip last year because she sweat too much and was just rehydrating with plain water.)
I have started on my lists. One for things to be finished before we leave. One for packing. One for shopping. One to put on the fridge to remind my daughter of stuff.