At the beginning of March I decided that it was time for me to stop being a spectator in my own life and do something about my weight again. I had been trying to lose weight for quite some time only to have little to no success and then I'd give up. On March 10, 2012 I decided that enough was enough! I went to the Doctor and asked for help. She was really great about it. She gave me nutritional advise, exercise advise, and put me on a prescription diet pill called Phentermine37.5mg. For the first time in a very long time I was experiencing SUCCESS!!!!
The Phentermine was great! I didn't experience any negative side effects. It took away all my urges to eat and sped up my metabolism! In the first month I lost 18 lbs on it!!! It was fantastic! I was so excited, but unfortunately that excitement was short lived. The second month wasn't like that at all. In the second month, my body decided that it wasn't going to allow the pill to work anymore and I didn't lose a single pound despite the fact that these pills are supposed to force the weight loss and I was exercising at least 2 hours a day.
At the end of the 2nd month, I went back to the doctor and she recommended that I go off of the Phentermine for 2 weeks and then restart them and see if that made a difference. She also put me on synthroid, a thyroid medication. Apparently my thyroid isn't working the way that it is supposed to and that is contributing to my lack of weigh loss success.
After 11 weeks, I went back into the doctor and I had only lost another 8lbs while on the medication and exercising. I was so disappointed and I think that my doctor is confused. LOL. She told me that there is a new medication that they are trying in combination with the Phentermine that has been helping people lose significant amounts of weight. I agreed to try the combo. I want more than anything to lose this weight and look like the "normal " me again. This new pill is called Topamax. It is an anti seizure medication and migraine medication.
At this point I am now on BC pills, thyroid meds, diet pills, and seizure pills. Plus I was taking tylenol all the time for the constant headaches that I was having. For two and a half weeks I was on this crazy combo of pills. After about a week of being on all of them I started to notice that I was feeling weird. My arms, toes, and face were going numb. I was feeling VERY depressed, was nauseous, exhausted, out of breath, and had a headache pretty much all the time. I continued to take all these meds for the next week and a half until one night I was laying in bed and the only thought in my head was I don't think I'm going to wake up in the morning and I was actually ok with that because of how horrible I felt. I realized then that this needed to stop!
I talked to my hubby about it that night and he spent the entire night making sure that I didn't stop breathing and the next day I quit taking the unnecessary meds. I am still taking the BC pills and the thyroid meds as they are actually medically needed, but the diet pills and seizure meds that were being used as diet pills are gone!!! I have been off of them for 2 days now and am starting to feel a little better. Hopefully soon the meds will be out of my system and I'll feel normal again!
Once I don't feel horrible anymore, I'm going to just join a gym again and continue to watch what I eat. I have just had to come to the painful and utterly disappointing realization that losing weight is not going to happen easily or quickly for me, but at least I know that I'll be doing it in a way that will be healthy and I won't have to worry about my kids being raised by my husband alone because I went to bed and never woke up because of all the meds!
My goal is to lose 90 lbs in total and in 4 months I have lost 33lbs. It's not super incredibly fantastic, but it is definitely something and I'm proud of every pound! Only 57lbs to go and I'll be at my goal weight! One day I'll get there and until then, I'll just enjoy the success that I'm experiencing along the way!
Me with my family on Xmas at 215lbs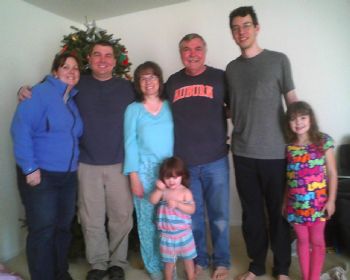 Me today at 182lbs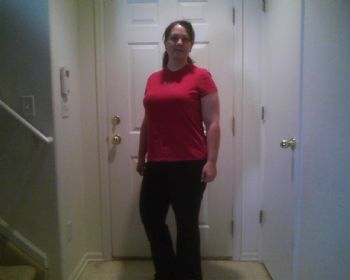 One day the change will be really noticeable and that's what I'm going to continue to work for!