I will start with the not so good news. This week wasn't bad, but nowhere near as good as it could have been.
1) track points daily.

Even on my super bad day I tracked, and that is saying something!
2) Continue with DDP Yoga 3 times a week.

Again, I only did it twice. I just can't seem to break that threshold.
3) Continue blogilates workouts at least 2-3 times a week.

-I did : total body pilates with Ana (apparently a pilates person)
pilates total body bangin' workout
POP pilates Abominable Abdominals
That's what makes you Bootyful (oodles of bridges) (drive by inner thigh challenge)
Summer Sweatfest cardio
4) Lose 5 Lbs over the next month. I don't know. I didn't record it anywhere, but I am probably down a lb. Still up from where I was though, so...Just work to do.
5) Work towards 8 hours of sleep.

Next- my best day in a very long time. First, I had a great sleep, but when I woke up I have a puppy against the back of my neck/upper back.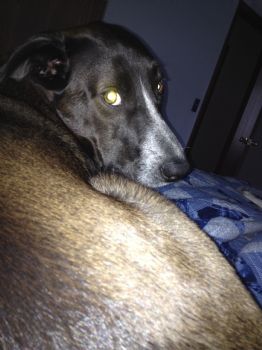 He's a cutie. Hubby and I then drove to the inlaws to take care of their dogs while they go on a short trip to see DH's brand new niece.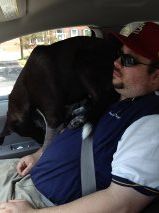 Yadi really likes to try to "sit" on us-whoever is in the passenger seat. He wants his butt on your shoulder, and its just not comfortable (or safe). But, that's where he thinks he is going to ride.
We took out all the puppies, played, and relaxed. After a little while, we put all the dogs in their houses, and took off. We ended up going to, what I like to call, the good mall. It has a Nordstrom's. And, for back ground info, Nordie's is having its huge anniversary sale. They had giant curtains hiding things, and it was all very mysterious. I did, eventually, get behind the curtains. I ended up getting a very nice makeover from Laura Mercier people, and got a few products that look pretty good on me (I never tight lined before, it looks soooo good!), and a set of brushes from the pre-sale. From there, I ended up at Macy's, and shopped at the Lush stand. My MIL has an amazing soaking tub, and I bought some amazing bath things- a bubble bar, a moisture bar, an ocean salt scrub, and a bath fizzie.
Then, it was off to our favorite Mongolian BBQ restaurant, where I made a small bowl, took the rest home, and avoided dessert. By the time we got home, both DH and I worked out hard. I then enjoyed my super soak in an amazing tub with a Mojito- seemed appropriate. We closed the night with Gremlins 2, and tons of puppy snuggles. It was such a great day.




So, onto the elaborate plans for next week.
1) Since I am still got getting to where I want to be, I am going to double track on WW and SP, and see how I do.
2) DDP Yoga 3 times/week- in the morning before work, or first thing when I home.
3) Blogilates- 3 workouts of hopefully 50 minutes pilates, 20-30 minutes of HIIT training
4) Lost 5 lbs in a month- I need to kick it into gear as I am running out of time!
5) Continue to get good sleep.
Alright, one hour left until I can relax. Just have to avoid stress eating!