In less than one week - 7 pounds and 18inches lost. Say what?!!!
I debated whether or not I should post this blog, since I'm sure many would think that I cut calories to the extreme or did some other fast-type diet. However, this is the first time in my life that I have ever tried an eating plan that eliminated meat, dairy, processed foods and most grains. I always thought the vegans and vegetarians must have something unique in their DNA that kept them from craving meat like the rest of us. I envied their resolve, epic willpower or whatever else it took for them to exert so much effort to maintain that lifestyle.
So what prompted me to dip my toes in their wading pool? Not ashamed to say it - sheer desperation and the fact that I have been feeling horrible. For the first time in my life, my weight is severely impacting the quality of my life (fatigue, achy bones, moodiness, ). Or, to be frank, I feel old and uncomfortable. I really feel as though I have tried EVERY OTHER option. Sure, I've lost some significant weight in my life but it always creeps right back. Permanent weight loss has been like a mirage in the desert for me.
After a particularly hot day at work - when I was svitzing like a sprinkler due to the larger clothes needed to cover my body - I once again started googling healthy eating plans and up popped Dr. Furhman's Eat to Live pyramid: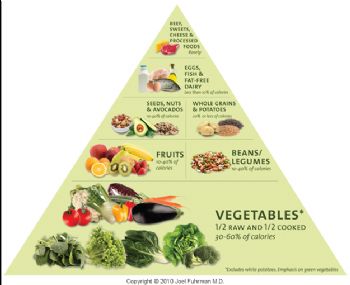 On his website. I read through some testimonials and articles and decided to download the electronic version of the book. The book elicited many emotions in me, from horror when envisioning all of the fast food and processed foods I had devoured during the past few years of grad school to stirrings of hope that the solution to a healthy weight really could be this simple. It couldn't hurt to try ONE MORE plan.
I immediately went to the farmer's market and bought loads of fresh produce, some nuts, flax seeds, and organic salad dressing. In addition, I stopped by the grocery store to get some good frozen and canned options for those days when I didn't have time to stop at market as well as tofu, almond and coconut milk. Missing from my cart were most of my usual staples -eggs, chicken, beef, cheese, yogurt, creamer, lean cuisines, weight watchers desserts, waffles, alexia potatoes, pirates booty, tortilla chips, canned soups and some kind of chocolate treat. Processed, prepared, frozen and convenience!!! In all honesty, it felt strange not to buy all of my old friends (or should I call them frenemies).
Somehow, I realized in that moment that drastic change is what my body really needs.
The first 3 days, it felt ridiculous to be chomping down enough salad to feed four people. At dinner time, I have literally been chomping on greens for about 2 hours. I can understand why green smoothies have become popular - and plan to give those a whirl next week. The fruit has been delightful and being able to eat beans and some nuts has really helped keep my hunger at bay. In fact, I have not been hungry at all. I've mainly felt lighter and less foggy/sluggish.
Dr. Fuhrman's plan calls for the elimination of all caffeine and alcohol in practice. Alcohol is not much of a problem for me as I usually only occasionally have a glass of wine or beer; however, coffee is a huge issue. I love my coffee! Rather than go cold turkey, I've cut down to one cup a day in the morning and am using non-milk substitutes instead of light cream. I've eliminated the second cup in the morning and the late afternoon iced coffee. The first couple of days, I had a huge headache in the afternoon, but managed to push through it. Once I'm feeling confident in my ability to maintain this new eating style, I plan to wean off it completely.
The only other adjustment I've made is to use Medifast medical meal replacement shakes at breakfast and lunch as a supplement for the first month or so. Since I'm so new to this way of eating, I want to be sure I'm getting all the nutrients I need and avoid unstable blood sugar.
Besides some mild withdrawal symptoms (and many, many pit stops to the rest room), I've been feeling fantastic on this plan. I was amazed at how quickly this way of eating affected me. My clothes started loosening up within 3 days and yesterday at work my NEW shorts that fit perfectly when I bought them were sliding off my backside. Curiosity got the best of me and I ended up stepping on the scale. To my amazement, I had lost 5 lbs in 5 days (one pound each day).
Today, I decided to measure myself and couldn't believe my eyes (3" off hips, 3" off thighs, 2" off waist and so on to 18 inches total lost). Being naughty, I stepped on the scale again and noticed 2 more pounds gone. I'm guessing that the majority of this loss is bloating and inflammation, but I'll take it! I read on Dr. Fuhrman's website that his obese patients often lose 1 pound or more per day for the first two weeks of plan, since the body rids itself of all unwanted waste and tissue. Whatever the case may be, I am very excited and feeling jazzed up to keep going. Most importantly, I FEEL better. Yesterday, I paused in amazement after effortlessly bounding up the stairs rather than laboriously trudging one stair at a time. My joint pain, back tension, cramping and knee pain have all disappeared as well.
Perhaps, Dr. Fuhrman is right when he says that the body has a miraculous ability to heal itself quickly. I have the feeling that this is going to be a magical ride :).