Sometimes I am completely blown away by the power and clarity of the readings I receive. This week, as I went to work with the "Wisdom of Avalon Oracle Cards" by Colette Baron-Reid, was absolutely one of those weeks for me!
We begin the week with the message of "Burden." This marker is a signal that it is time to stop and examine what burdens you are carrying with you as you journey through life. Are you holding on to old grudges and past hurts? Have you made so many commitments to other people that you aren't living your own life anymore? Are you stuck in an unhealthy friendship, work situation or romantic partnership? Do you feel the need to interject yourself into the problems of others, trying to rescue them? The angels tell me that now is a time of letting go. They say, "It is carrying these unnecessary burdens that weigh a soul down and make you feel exhausted and unable to move forward on your own life path." They tell me that if you are having difficulty letting go of the unnecessary burdens in your life to ask Archangel Raphael for help. Find a quiet place where you can be alone and say:
"Archangel Raphael, please come and sever all cords of fear that are keeping me tied to unnecessary, draining burdens in my life. Set me free from the need to rescue or control others by trying to make their life choices for them. Release me from unhealthy relationships. Give me the strength to say 'no' so that I do not take on all commitments than I can handle. Amen."
Sit quietly as Raphael cuts away all of the cords that are binding you. As he does this, you may feel heat, chills, a shifting sensation or a lightening of your physical and/or spiritual body. Simply wait until any sensations you feel pass. Repeat this activity as often as necessary.
The middle of the week brings The Butterfly, the emmisary of beauty. She reminds us that it is our choice whether we see the world as a beautiful place filled with wonder, or a dark and scary place filled with misfortune. She says, "Open yourself up to the beauty that is all around you every minute of every day. Find the simple beauty in a sunset, a flowering plant, friendship, your children, or the act of cooking a meal. Wherever you are, whatever you are doing, there is beauty there if you just choose to see it." Butterfly continues, saying, "This is especially true of how you see yourself. If you are to be the powerful, Divine being that you are and move forward as a Lightworker, embracing your true life purpose, you must see yourself as beautiful and powerful. You must love and accept yourself or you forever cut yourself off from your true potential."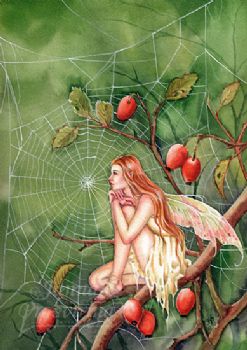 The week ends with The Bard, who has two messages for us. First, she says that it is a time to embrace the power of music, storytelling and other creative activities. She says, "Whenever you allow yourself to engage in creative projects, you open the doorway to your own ability to co-create with the Universe. So give yourself the time to learn to play an instrument, to take a painting class, to draw, to dance, to begin work on the novel you've always wanted to write or just to sit quietly and daydream. Recognize this as a powerful spiritual practice. Open yousrelf up to the Divine miracles you are creating!"
The Bard goes on, saying, "Now is also a time to look to your history for patterns and life lessons. If you find yourself in the same situations over and over again, it may be because the Universe is trying to teach you something. If you can figure out what the lesson is, this situation will stop repeating in your life." She further explains to me that this life lesson may not be directly connected to you specifically. It may, instead, be a generational lesson that many people in your family have had to learn, such as breaking the cycle of substance abuse or unhealthy relationships. She says, "History can be our greatest teacher. Look closely and see what you might learn!"