Friday, July 13, 2012
10:04pm
We had a busy day today. Took dad's oldest brother to his 2 doctors appointments, got the brother's hair cut, and ran errands for the garage here in town. Pretty much spent the entire day in Galesburg. I know that the next 3 weeks we will be taking dad's oldest brother to his appointments. His regular doctor said no more driving until the dizziness clears up.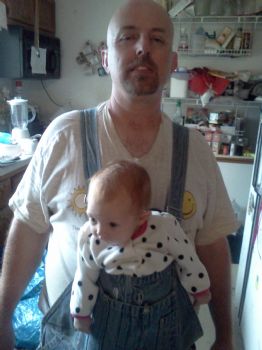 This is a picture that I got today that I saw on Facebook yesterday. This is of my oldest brother James and my grandniece Katelynn. Looks like grandpa and granddaughter are spending quality time together. Katelynn is 2 months and 5 days old in the picture. Isn't she cute? Still has the chubby cheeks and the head of hair. My brother looks like he needs to take a nap. Being in grandpa's bibs isn't bothering her at all. Got this picture printed off so we can show people.
Took the dog for 4 walks today. Two this morning and two this afternoon. The last two he dog and I got wet. The earlier one we had more rain than the later one. We're suppose to ge more I think tonight and tomorrow.