I would like to take the time to say that my trip was amazing and would also like to share a few of the pictures here! We drove in to Colorado on Saturday and set up camp at a beautiful site--tent and all. The temperature was a good 40 lower than what we left behind in Texas and that was excellent! The nights were a little rough just because it was rainy 3 of the 4 nights we were there, and that makes for a cold night. It probably wouldn't have been so bad, but each of us were slightly under the weather going into it. The first day, Sunday, we explored around the camps at the various lakes; there was lots of climbing, hiking, maneuvering for 5 hours just around the camp where we stayed, but the sights were incredible! I was able to capture some amazing pictures!
On Monday, we decided to hike up a mountain. I gotta admit--I WAS SCARED!!! I don't know what scared me more...Lions and tigers and bears, oh my! OR...Am I going to be able to make this? With my feet, and the extra weight, and the never-ending clumsiness, and the fact that I'm not a perfect athlete with bulging muscles. How can I, someone who couldn't walk up one flight of stairs 7 months ago without getting winded, make it 3.5 miles UP?! Much less the 3.5 miles back DOWN after making the exhausting climb UP! My palms were sweating, and my stomach was rolling. Just standing there, looking at the road ahead of me was overwhelming. But, the love of my life encouraged me and told me that he believed I could do this. So, with him by my side and my two amazingly inspiring dogs, we began the hike up mountain. It seemed like it was never going to end, and my legs were burning, and I discovered muscles I never knew I had, and my whole body was drenching in sweat, despite the cold mountain air. And suddenly, after being shrouded in the shade of trees for so long, we came to the most lovely sight I have ever seen in my life. The fog was thick, but it quickly moved and the sun shone on a mountain nearby that I was level with. What I mean is, I was staring in the face of a mountain...not just looking up at one! And we weren't even done yet!!! The view was glorious, memorable, breathtaking.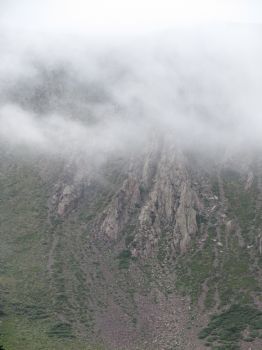 After stopping to take pictures, we continued on because we still had to make it to the top and back down before dark. Once we made it to the top, I remember having the strangest emotions overcome me. First, I CLIMBED A MOUNTAIN!!! Secondly, however, I felt so close to God! To be in a place that is so untouched by man, is truly remarkable! Everything looks pristine and glamorous! And, the fog was so heavy and bright, it seemed as if we were in a different realm. It was the strangest feeling I have ever had.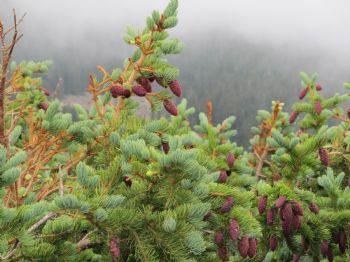 The trip down seemed a TON easier except that my feet did go numb.

And then clumsiness kicked in and I took a nice little fall knee--->rock sudden impact!

But, thankfully, all I got out of that was a scrape, a bruise and a little stiffness for a couple of days. I STILL CLIMBED A MOUNTAIN!!!




Our last day, we took it a little easier, though we were still hiking the better part of the day. We took our dogs to the lake and they thoroughly enjoyed that! The last day was beautiful weather and we didn't have to take cover from the rain one time! On Wednesday morning, when we packed up camp, I was saddened to leave such beauty, but left feeling more motivation than I have felt in a long time! When I reflected on my feelings of work-out dread, I kept thinking of how many things are possible and that I don't have to be a skinny athlete to accomplish great things! I'm so excited about these wonderful life changes!
The lovely view from our camp site.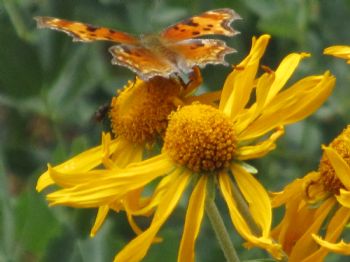 Beautiful butterflies were EVERYWHERE!!!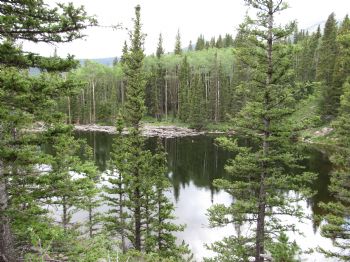 One of the many beautiful lakes we explored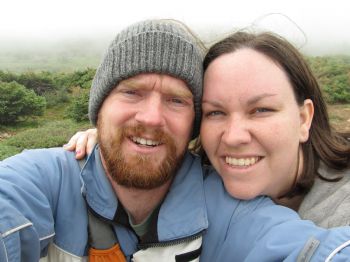 Me with the love of my life on top of the mountain. :) What a wonderful feeling!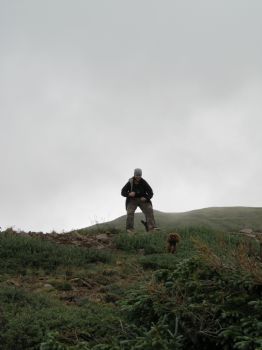 I DID IT!!!