I am now 32 weeks along!!
I haven't been able to get in decent workouts since Friday. All my workout stuff is now packed and our entire rec-room. This includes the DVD player and TV. So my only option now is walks until we move next week.
I did get in a walk last night but ended up getting cramps and had to turn around a lot earlier than I wanted.
If I am honest...it was starting to get hard to do any of my DVDs. I keep getting the cramps. So I think it may be walks from now until the baby is born to be safe. And some free weights.
On the weekend I had my baby shower! it was so much fun! My baby is spoiled already! hahaha
Here are some pictures!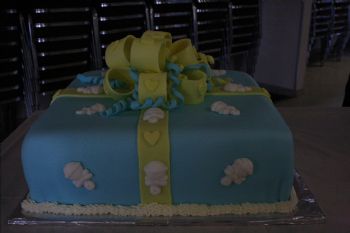 This is the amazing cake my mom made.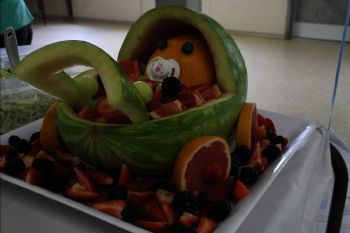 This is the baby-in-carriage fruit dish my dad made! So awesome.
Here is me opening gifts!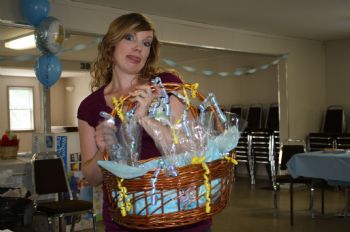 Me about to hand out the favors to everyone..little rattles full of candy...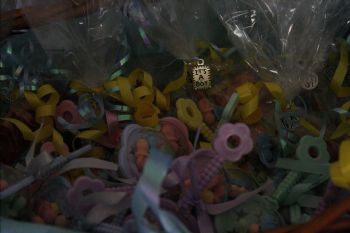 It was such a great shower that my husbands family and my family put on together. As soon as I got home I had to organize everything into boxes for the move. So I cannot wait to get into the new house and set up the nursery! I also sorted all the baby clothes by size....just have to wash it all once we are in the new house.
I cannot wait! We got to do our final walk through of the new house last night. We move next weekend!
So this weekend will be a busy packing weekend. As was this past weekend. I usually don't do a workout when I know I will be packing. I get out of breath packing and what not so I try not to over-do it. It's funny too because normally this type of activity would be nothing to me. I wouldn't get out of breath at all. Just goes to show you how much harder your body is working with the little one growing inside.
8 more weeks!!!