Deuteronomy 28:1-14
You must completely obey the Lord your God, and you must carefully follow all his commands I am giving you today. Then the Lord your God will make you greater than any other nation on earth. Obey the Lord your God so that all these blessings will come and stay with you:
You will be blessed in the city and blessed in the country.
Your children will be blessed, as well as your crops; your herds will be blessed with calves and your flocks with lambs.
Your basket and your kitchen will be blessed.
You will be blessed when you come in and when you go out.
The Lord will help you defeat the enemies that come to fight you. They will attack you from one direction, but they will run from you in seven directions.
The Lord your God will bless you with full barns, and he will bless everything you do. He will bless the land he is giving you.
The Lord will make you his holy people, as he promised. But you must obey his commands and do what he wants you to do. Then everyone on earth will see that you are the Lord's people, and they will be afraid of you. The Lord will make you rich: You will have many children, your animals will have many young, and your land will give good crops. It is the land that the Lord promised your ancestors he would give to you.
The Lord will open up his heavenly storehouse so that the skies send rain on your land at the right time, and he will bless everything you do. You will lend to other nations, but you will not need to borrow from them. The Lord will make you like the head and not like the tail; you will be on top and not on bottom. But you must obey the commands of the Lord your God that I am giving you today, being careful to keep them. Do not disobey anything I command you today. Do exactly as I command, and do not follow other gods or serve them.

This was the scripture that was lectured upon by Joyce Meyer this morning while I was treading up and down those hills on the treadmill at the gym. She impressed upon those listening that we need to begin claiming God's blessing each day. To wake up and bless the day He's given, to bless our family and on and on. She also talked about having a thankful mouth instead of a grumbly, jealous, gossipy, ________ (fill in the blank) mouth. So today I had a grumbly mouth about 5 p.m. True confession! But this thought made me capture it and change.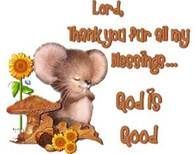 So day #2 of getting to the gym first thing worked well. Was even quieter today...only 2 people and nobody else came at all while I was there. Much cleaner too so I'm sure the mess was from the weekend. Tomorrow I won't be going in the morning as I'm meeting the trainer at 1:30 for a 40 minute session. Only 3 to go with her. At least I'm feeling better about it now that this new exercise plan appears to be working.
The rest of the day just moved along and I didn't get everything done I'd hoped, but I made a dent so all is well.