Cross-posted from my blog:
bigolfatkid.blogs
pot.com/2012/07/zonk.html
----------------------------
------------
What would be more satisfying: Losing the same amount of weight, every day, or having three days of stagnation or gain followed by four days of higher weight loss? This is assuming both add up to the same loss each week. Wednesday through Saturday each week are great, but these Sunday-Monday-Tuesdays are pretty much bullsh*t. Obviously, thereís nothing much to take from daily fluctuations, and I don't let it get me down, but thereís no denying that it feels better to lose weight than to gain it, no matter the time frame.
Anyway, I was glad to be able to get back into some sort of exercise after my back injury debacle of last Osgood-Schlatter that I had growing up. I had thought that it went away, but according to that most sacred of tomes, Wikipedia, about 10% of sufferers have symptoms right on into adulthood. F*ck my knees. Anyway, Iím working to be extra healthy this month, because Iím about four weeks away from just destroying my body for four days. And itís going to be incredible.
Itís known as Mancave. Each year me and a group of my buddies (weíre up to 12 this year) rent a beach house and spend a weekend there drinking Ė a lot, playing games like Cornhole or beach football, and generally just not giving a sh*t about anything but having fun. Itís a blast, but Iíll probably gain a good five pounds over the four days weíre there. However, this year I plan to put at least minimal effort into being healthy. Iím still going to eat most anything I want, but I plan to (and I stress, plan to) go for a walk/run each day when I wake up. Iím also hoping we do some beach football again, since thatís a surprising amount of running and moving around.
In the end, thereís a decent chance that at least one day Iíll be too hung over to do any working out in the morning, but Iíll figure something out, even if Lincoln City is horrible and doesnít have a disc golf course. Perhaps basketball or something else stereotypical.
Finally, hereís some trivia, just because I like this trivia problem, and Iíve got to think of something to keep traffic up!
Suppose you're on ďLetís Make a DealĒ and you're given the choice of three doors. Behind one door is a car; behind the others, ZONKs. The car and the ZONKs were placed randomly behind the doors before the show. The rules of the show are as follows: After you have chosen a door, the door remains closed for the time being. The host, Monty Hall, who knows what is behind the doors, now has to open one of the two remaining doors, and the door he opens must have a ZONK behind it. If both remaining doors have ZONKs behind them, he chooses one at random. After Monty Hall opens a door with a ZONK, he will ask you to decide whether you want to stay with your first choice or to switch to the last remaining door. Imagine that you chose Door 1 and Monty opens Door 3, which has a ZONK. He then asks you "Do you want to switch to Door Number 2?" Is it to your advantage to change your choice?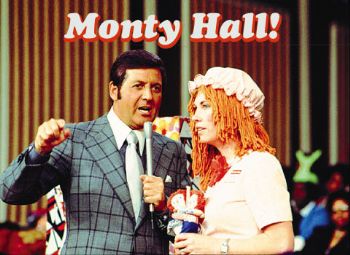 Good luck!