Tuesday, July 10, 2012
It is almost eleven at night and the low for tonight is 20 degrees celsius. Even my open window does little to cool me down! It was about 37 all day, I thought I was going to melt. Don't take this as complaining, I love this kind of weather! I much rather this than our minus 40 winters!
Anyway, enough about that, I want to make a quick progress blog. I've been sticking to my weight training during the week, I go every lunch hour. I usually split my days between back and chest, legs, arms and shoulders. Abs get thrown in when I have time. Curling 20's is starting to get a little easier, I might have to go a bit heavier soon. Which is exciting! Or maybe I'll start adding drop sets. Gotta keep it interesting so I don't plateau. I'm at 152 pounds right now. I'm not sure when the weight decided to come off, but hurray!! My progress pic: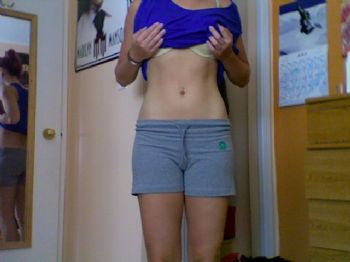 I also got a new piercing, a microdermal near my throat. Basically they hole punch the skin out and slip the anchor underneath. It's the fastest healing piercing ever, felt fine in a few days!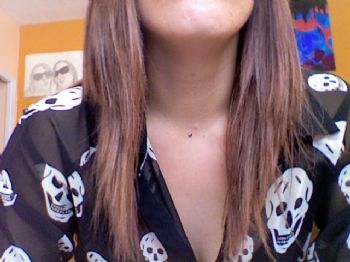 I haven't quite got my weekend eating under control, I tend to go a little easy on the calorie counting and I'm also still trying to cut out sugar. I keep telling myself I will but I dunno, it's so hard! But It has to be done! That's my next goal, cut out sugar for a more clean diet. I'm eating a ton of fruits and veggies lately, but it's the soda that's hard to quit.
Hmmm what else, I took some measurements but everything's about the same. It's a very slow progress but I'm noticing small changes in the mirror. Especially at the gym when I watch my arms while I do lateral raises and such. I'm getting pretty toned! I love it! Well, gunna try to sleep in the mad heat wave. night!