Monday, July 09, 2012
What I mean is go back to June's Blog entry and that is what should go here. Especially the Goals. The only difference is that now it's July and I am 4 pounds lighter.
I am STILL not as invested as I was the first four months of 2012.
We have added a new dimension to our workout. We've just taken delivery of our new Bikes (on order since January) and we promptly took them out for an awesome ride around the Bay yesterday. (Nope, we didn't waste any time).
We want to make this our weekend ritual (and throw some neighborhood rides during the week in there too). We're excited about joining some other bike owners on local rides and I'm hopeful that this added level of activity will set everything else in motion too. That my focus will sharpen and I will become as invested in losing the rest of the weight I set as my goal.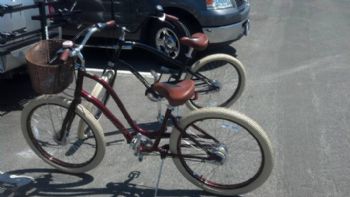 I promise that next month's blog entry will not be another rehash of this month!