Today was my day 6 back on P90X. But not in a way that anyone but me would know or understand if you've done the program.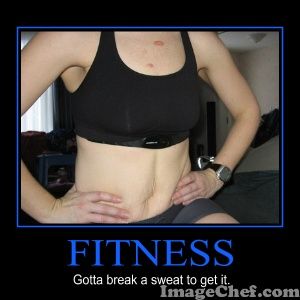 (this is me, btw, last year...need to get back to this)
Little P90X background. It's a dvd fitness program from BeachBody and is the sister to Power90. It's trainer and talent (most of the time) is Tony Horton. I only say 'most of the time' because there are days where you will not find him as witty and funny as he is and can be. there are days where you really get annoyed with the sound of his voice and his counting ability -ain't all it's cracked up to be all the time- and his jokes...ahem, sorry this was about the PROGRAM, Sasx, get on with it.
OK, so Power90 was a 90 day program for fitness combining cardio and strength training years ago. When people finished that, they wanted more...so P90X was born. Another 90 day program, with souped up ST, high intensity cardio, abs abs abs, yoga, various schedules and a meal and diet plan. It contains 11 workouts (I think??) that you rotate through on a schedule they (beachbody) calls 'muscle confusion'. In which, you do the same workouts every day for 3 weeks (3 strength, 3 cardio-alternate). then the fourth week, is all stretching, yoga, core work, kickboxing etc...(I think they use this in Insanity, too-recovery week). then a whole new grouping of workouts for the next 3 weeks, with a week of recovery, then again 4 weeks of alternating workouts and a final week of recovery.
i've done P90x a few times now (without the meal plan, and it's great. which is also why I'm a little tired of you-know-who's voice-that's what music is for. LOL
Ok, so not really a 'little P90X background' sorry about that.
anyway- day 6 of my hybridized-monsteried summer P90Xman schedule. I'm using P90X for the ST and some cardio, but I've also found some other things that interest me and am putting them in when and where I can.
Ever hear of the Spartacus workout from Men's Health Magazine?
It's awesome, and ladies, it ain't just for men-no matter the name of the magazine, m'kay?
here's the link:
www.menshealth.com/mhlis
ts/high-intensity-circuit-
routine/
and the pic on the page... (this one is more for me...)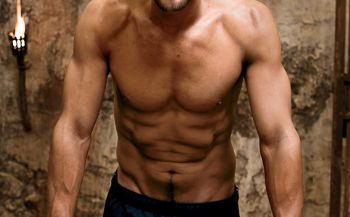 ahhh
the workout for those of you a little stunned with that pic goes like this:
It's a circuit of HIIT- 60 sec on work with 15 sec rest/transition/cry time
3 times through
what?
Yes, I said 3 times through...
3. TIMES. THROUGH!
*goblet squat
www.menshealth.com/mhlis
ts/high-intensity-circuit-
routine/goblet-squat.php#slidetop
If you need pics or explanation on any more exercises listed below, just follow the slideshow on the above links...sorry-feeling lazy tonight.
*mountain climber slowly_ I do this a different way each time...regular mtn climber the first time, knees out the second, and knees across the third time.
*single arm db swing-switch arms 30 sec, so keep an eye on time!
*T-pushup_don't look up so far that you fall over backwards on your butt...like I did
*split jump (or as P90Xers know them...Mary Katherines) alternating jumping lunges-personally, I'm still just stepping these (tyvm, wonky ankle)
*dumbbell row (something Power 90 people are familiar with or if you are a Bob Harper fan...)
*dumbbell side lunge and touch (something RushFit people know)
*plank row
*db lunge and rotation
*db push press
that's it! 10 exercises, each a minute...3 times through
don't go crying to mommy. If I can do it and only sweat/r a lot, than you can too.
That's Spartacus.
Here's Zuzuka Light: http://www.youtube.com/user/Zu
zkaLight/videos
she is a co-founder of Bodyrock[dot]tv, but split from her hubby and is now out in Cali looking great and still making free, online workout vids for all of us to do! she has 25 of them out right now and most are bodyweight only, which makes them easy for anyone to do (except for the fact that they are HARD!), but modify for your ability and comfort levels.
I'm also adding in, Bob Harper's Body Rev dvd's, some pilates (here and there), and some Georges St.Pierre's RushFit.
and to make it more fun, I also 'make' my mom and sister do these with me at least once a week or more. depends on if I go over there (my mom's) when they are home, then i get a double workout day in! Go me!
today was a doubles day. My sis and I got in Spartacus and then KenpoX (without the warm up-hello?? Spartacus IS the warm up!)
Anyway, tomorrow is ST for me, or rest. Will see how the day unfolds and when I get up.
I also use my HRM to make sure that I'm getting good burns and am really kicking my own butt. Eating well is also important. (don't look at the poutine or caramilk I had today-it was my 20% day) try and eat well 80% of the time, that way, if you do go off the rails a little with that cake or bag of doritos, you won't beat yourself up THAT badly over it.