Alrighty, I'm jumping back in. It's been too long since my last blog (May 8th whoo-ah)
I wont go too much into what's been going on the last two months, there was a lot of good don't get me wrong, I'm in a much better place than I was last blog, but my focus is on getting back in the game shedding pounds and inches so I wont bore you all with the "non-related" stuff. The last two months yeilded nothing good health wise. I don't recall exercising, not even once. We ate out A LOT (probaby more often than not), and I slumped into an "I give up" comfort zone. NOT GOOD. I stepped on the scale Monday and saw 164lbs!!! UGH. I haven't seen that number since 2008 and I was needless to say NOT HAPPY I allowed my bad habits to take over and get me back to this place I swore I'd never be again.
So, here I sit with a goal of 30 pounds to lose. I feel pretty charged and energized about getting there though. I've got a lot of determination and motivation within me. My husband is on the boat with me this time which is hugely helpful, I have Italy in 6 weeks to work towards (HUGE motivation since I'm going with my two girl friends who look like Barbie dolls and I REALLY don't want to look like the good year blimp next to them), and I'm honestly just sick and tired of my reflection in the mirror and lack of clothing options currently in my closet that accomodate this weight. I'm being stubborn and refusing to go buy fatter clothes.
So, here is my master plan to get back in it to win it!:
Basically its just two goals. I'm going back to the old addage KISS (Keep It Simple Stupid). Fitness & Nutrition
In reality these are the basic building blocks of a healthy lifestyle. When I boil down all the things I want to accomplish and where I want to be, they all somehow boil down to eating better and getting active.
GOAL #1 FITNESS:
I started INSANITY on Monday. It's a 60 day seriously intense and INSANE (it's named quite appropriately) fitness program. There are workouts for 6 days/week for the next 8 weeks. Each day is a different cardio/strength Max Interval Training work out. 3 minutes of high intensity max output cardio, with 30 seconds rests inbetween for 40-60 minutes/day. Like I said. INSANE!! It's quite possibly the most brutal program I've ever attempted, but as challenging as it is, I'm enjoying it so far. Even though I can't complete an entire DVD wtihout stopping multiple times to rest yet, I still feel accomplished at the end. Accomplished, drenched in sweat, smelling to the high heavens, exhausted, sore, and like I might puke to be more specific lol. I'm jazzed about continuing with it and exploring more of the DVD's it has. I'm only on day 4 and there are something like 10 total so I'm stoked!!
The best part is my husband, the ANTI-WORK OUT MAN, is also doing it with me. I'm super impressed!!
This is Day #1 of INSANITY. I wanted to take a "before" because I'm committed to finishing this program and having an AWESOME after!!! Like, "put me on the DVD awesome" LOL.
It pains me to even post this picture because it shows just how BAD I've regressed compared to where I've been, BUT, it's my reality and I'm facing it head on. I can't change what I don't accept and I accept I have done things to get myself to this point, and the only way I can UN-DO the effects of my actions is to identify what led me to this point and make positive changes to get me to where I want to be.
This is my Fit Test-Day 1 results (my numbers are the second set). I felt like I totally bombed the fit test. Day's 2 & 3 were much better for me stamina wise (though I still struggled a lot lol).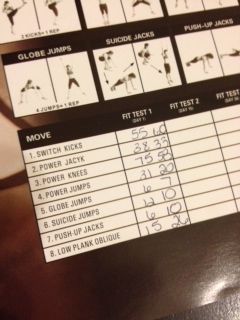 In addition to Insanity (as the head of the Moral Enhancement Committeeat work) I initiated a weekly work out class. Every Thursday after work we go down to a big meeting room and do a Zumba DVD together. Tons of fun :)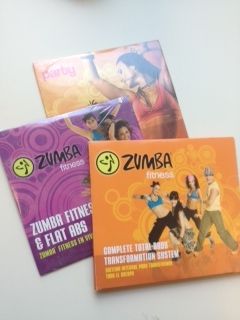 GOAL #2 NUTRITION
Calories: 1200-1600/day
Water: 1 gallon daily
Focus on eating clean, limit processed, sugary, sodium riddled foods.
Log EVERYTHING
Allow 1 cheat MEAL/week
Plan ahead: make a shopping list (STICK TO THE LIST), pack my lunch every day, get back to batch cooking.
Utilize Spark and Tumblr to experiement with new healthy recipes to break up the monatany of our same old stand bys.
Cook at home as much as possible.
Limit eating out to only social activities, NOT "I'm tired, I don't feel like cooking let's just go grab something cheap." or "We're crunched for time tonight we need to grab something on the fly." There's no such thing as healthy AND cheap, or Healthy AND on the fly. ENOUGH!! See the "Plan ahead/Batch cooking" goal to achieve this!
And lastly, not necessarily a "goal," but the tools I intend to use to help keep this pony trotting in the right direction are of coarse SPARK PEOPLE... Tumblr (great motivation and inspiration), and Friday July 6th we start a Biggest Loser Challenge at work ;) Lots of great things going on right now to keep me accountable I LOVE IT!!!
Since starting on Monday my body is already adjusting well to the positive changes. The scale is down 4 pounds, bloating is down, and I'm less tired.Overal I feel better physically (soreness aside) and mentally I am in a very good place.
Okay well, that's the jist of where I'm at for now. I will blog later when I have more time :)
Feels good to be back!