Week Five of meal planning, cooking and tracking! If I spend any more time in the kitchen, I'm gonna sprout an apron, sensible pumps and a string of pearls. But I've discovered something odd in the last couple of weeks. I've been acting like an Oompa Loompa. One word: candy.
For the last two weeks, my sweet tooth has been in overdrive. Maybe itís a summertime fun thing, I donít know. What I do know is, Iím not an Oompa Loompa. I canít live on a chocolate river and eat sugar teacup flowers. Nope. No can do. If I end up at the high end, or over my calorie range lately, candy is the likely culprit. Itís perfectly fine for me to sprinkle a small amount of Heath toffee bits on top of my oatmeal in the morning. I have no problem with that. However, chugging them from a Dixie cup is not recommended. (Hypothetical situation, of course...) If I smuggle healthy, air-popped popcorn into this summerís latest blockbuster at the movie theatre, does that mean itís okay to inhale a vast amount of chewy sweet tarts? Methinks not.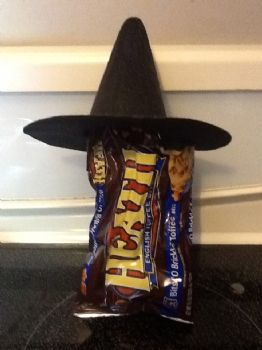 I didnít even notice it was wearing a witchís hat, until I took this pic. That explains so much...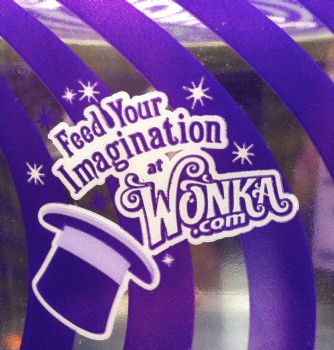 Mr. Wonka, sir, while I adore you and expect to find my own Golden Ticket any day now, I beg to differ. You are feeding more than my imagination. Kindly cease and desist.
So, to address this issue and nip it in the proverbial bud, I joined the four-week Tame Your Sweet Tooth Challenge. Iíll finish this up, right before I go to DisneyWorld. Thatís a good idea, right? Itís not like Iíd be tempted by sweets, there... Anyway, Iíll let you know how that goes.
In other news, Iím proud to say that Iím wearing out my elliptical. What an accomplishment! (The NordicTrack help desk dude said that was a very positive attitude for me to have. Heís not used to such Sparkiness.) The squeak turned into a chirp, then into a full-out shriek (the elliptical, not me, BIGGEEKDAD). And fear not, PICKIE98, Chubbs and Pudding are tucked away in their house of awesomeness, so we donít have guinea pigs stuck in the gears. Nope. NordicTrack thinks my bearings have lost their lubricant. Boy, if I had a nickel every time somebody said that... Theyíve ordered replacement parts and Marvin The Elliptical Wizard will be out to fix it in the next week or so.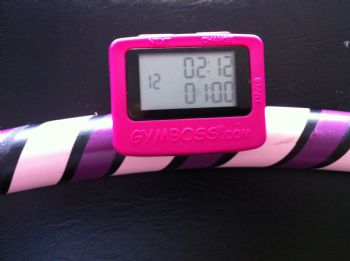 In the meantime, Iím going to continue with strength training and amp up the hooping. I started doing interval hooping, just for kicks. We do it sometimes in class, but I hadnít really done much of it at home. I program my interval timer and waist hoop normally for three minutes, then as fast as I can for one. Lather, rinse, repeat, until the back of my neck starts to sweat. It doesnít feel like as much of a workout as hoopdancing outside, but good golly, itís 100 degrees out there. The hoop and I would both melt. So, Iíll do what I can, how I can and when I can.
Spark on, brave Sparkers! Iím off to find some Fizzy Lifting Drinks.
JUST KIDDING!!
Iím really looking for Everlasting Gobstoppers...
NOT REALLY!
I am not an Oompa Loompa, I am not an Oompa Loompa.