Wednesday, July 04, 2012
I was going full bore when I started with Spark in May. Then I realized that my wedding was at the end of June, and I needed to fit into my dress. I had to stop everything and just maintain my weight to make sure that the dress fit on the big day, and that I didn't have to pay a ridiculous amount of money for last minute alterations. Crazy, right?
Here we are on our big day! It was the post perfect day we could have imagined.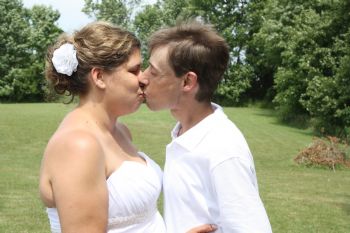 But now I'm ready to get back to it. I'm already ready to hit the gym tomorrow, since I signed up for a 5k in September, and I am by no means a runner. I am doing the 5k Your Way Rookie program here on Spark, and I hope that it will get me in shape enough to be able to do this. I'm determined.
I'm ready for this. I'm ready to be able to take awesome 1 year anniversary pictures, knowing that I've worked hard to be where I want to be health-wise.