Wow! It's been a crazy couple of weeks!!!
The first big thing that occurred was that we finally found a house! We were seriously getting worried and had even began looking at houses that would do for 2 years and then move again. But it was pure luck that brought this house to our attention. I was going for a walk when I saw the for sale sign going up on the front lawn. I called right away and we were the first couple to see the house.
And the house was perfect! 4 bedroom, double-car garage, all brick, with a large kitchen and big backyard! We put an offer in right away and we're really happy when everything got accepted. Even our really tight closing date!
We move into our new house on July 20th!!! Not long from now so we've been very busy packing up our house.
I have had to slow down again on my workouts. Not too much but my feet and legs are starting to get really sore. I think much of it has to do with this heatwave and the crazy levels of humidity. We don't currently have air conditioning (the new house does!!!

). So I am just being extra careful and working out mostly in the mornings when it's cool. Or late evening walks when it is also cooler out.
I also make sure to get off my feet come evenings and put my feet up. So far not much swelling.
I cannot believe I am 31 weeks!! Here are some recent photos of my belly! hehehe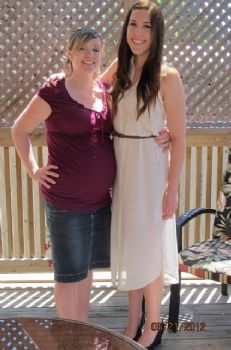 This one was taken two weeks ago. It's with my younger sister before her college graduation.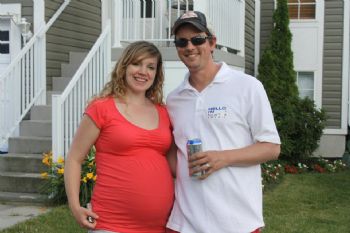 This one is of my husband and me on Canada Day. We posed outside of our current house. We figured since we are only living there for 16 more days we should get one last picture in front of it for a keep sake.
My belly is getting big now! lol It's not much longer now until we get to meet our son and I am so excited! And excited to get the nursery all ready in the new house!
My husband is making me a workout area in the basement so I can easily sneak down and workout once the baby is born and I can workout again.
My baby shower is also this weekend! I am so excited to see family and friends!!!