Wednesday, July 04, 2012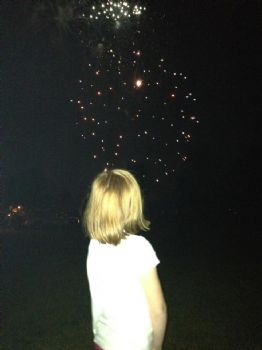 She looked up at the sky, eyes wide with amazement and awe. I saw the joy only a young child has for the simple and truly awesome things of life. As I watched her it struck me that she is the embodiment of this holiday we celebrate in the USA. She is independent to make any choice she wants for her life. She is free to walk any path she chooses and there is no retreating from the magical and mystical life she lives.
She is free and while she gazes skyward beside her stand thousands, nay millions of people, each who made a sacrifice, large or small, so she had the right to choose her own path; her own destiny.
Over two hundred years ago a group of men gathered to put their names to a document that read in part "We hold these truths to be self evident, that all men are created equal." There we no exceptions. Those independent men had the courage to separate themselves and define a new existence.
As she stood in the field commemorating that event, all those who came before her stood there also.