Lost. That's where I've been!
It would seem that for the most part, I have been AWOL or MIA from Sparks the last six months, and basically it was because of stress and health issues! Go figure. Here my goal was to get healthy, and my body and I did a complete crash instead. Everything has come to a head - my health, my hamster wheel lifestyle, my marriage, and my job.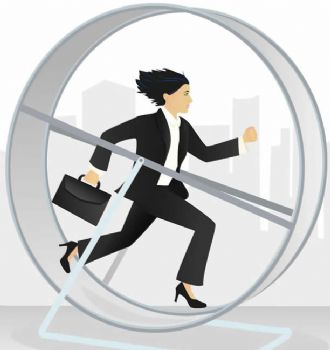 My health has plummeted in the last year, literally gaining 22 lbs in 11 months; fourteen of them in two months this spring. Stress can do amazing things to the body as I have found out. No, my eating habits were not perfect, but nor were they so atrocious as to account for this amazing gain. The stress I held inside, without release, ate away my health, my sanity and my good habits & routines. Stress ate away my sound sleep. It raised my blood pressure to 170/92, with an elevated resting heart which really stood for "racing heart rate"! Stress added pounds. It caused me to feel faint and sick after a 20 minute walk - and that was even leisurely. Stress made my chest bone literally ache.
Stress has also raised my cortisol levels to be elevated for so long, for so many years, that it is believed that I have burned out my adrenal gland and most likely am suffering from Adrenal Fatigue. I'm not so bad that I am bedridden, but I am affected in so much as I HAVE TO sit for 2 hours every afternoon, or pay the consequences for days to come!
In all of this, it is confirmed that my body "just makes kidney stones". The doctor basically said "...you have brown eyes, make kidney stones, and are 5'9" There is nothing they can do for me. All tests show that I am otherwise healthy: good calcium, good thyroid, good vitamin B, etc, etc. Yet weekly, I deal with passing minor stones. Last month at the time of my ultra-sound, I had half a dozen 5mm stones in my left kidney and half a dozen in my right from 5mm to 1.1 cm.
Now, as of this last week and a half, I have Shingles, something sometimes believed to be activated by stress. No! Really! Believe me, I'm tired of being in pain.
And psychologically, I have the mentality of "single mom". Some people actually think I am because they've never met my husband! My hubby does shift work and is seldom available or won't make himself available to things going on as he is too tired (though not tired enough to stay off the computer searching yahoo for 4-6 hours a day)! I took on being the volunteer parent for everything my boys were involved in. And I'm not saying just "making cookies" once in a while. I'm talking "chairs of committees" and "Chairman of the entire clubs". And of course the day to day, mom stuff, budgeting, paying bills, maintaining house and yard, checking oil and gas, being taxi, grocery shopping, laundry, house cleaning, etc, etc. Unfortunately, I also let the boys not be accountable in helping out. And I paid the price, not them! Just a little too much on the plate.
The stress also from my job and my marriage did not benefit me either. At doctor orders, I have cut my hours in half with my current employer, and am seeking direction & leading as to whether I should stay at all. We are short staffed and the equipment & software costs are short-cutted, so it is like working with one hand tied behind your back. And that's before the phone, the boss and the clients start showing up and calling in!
I did realized I needed help. So I started going to a godly, wonderful counselor. I've had to release some old protective habits in-grained in me since childhood, in order to stop reacting to my husband's negative behavior. I have accepted control of my own actions and will no longer allow perceived control influence my marital decisions. I do realized that my husband has his share of influence in the problems of this marriage, but it is not "all me" as I was taking the blame for. Nor have I helped matters by enabling and not making my husband accountable for his actions. I have prevented as many blow-up and discomfort as possible. So-not the right answer. I missed the tough-love lesson in life and ONLY applied it to myself. I have been really out-of-balance for my entire grown-up life!
I have spent the better part of this last school year keeping my head afloat. But ultimately, between my counselor and my doctor who "gave" me a new boat and a sail, I had to climb aboard and let the winds take me. There was no alternative left, or I was going to drown in my troubles and old ways of doing things.
So instead of feeling sorry for my self like I have been - it's been quite a pity

(Sorry I didn't invite you for all the fun

), I decided that this summer will be a new start for me. Today, I'm grabbing the rope, and I'm going to set sail.
Today, I restarted my SparkStreaks, weighed-in, and joined some new SparkTeams. Today, I scribbled out my goals (gotta post 'em later), watched my nutritional intake, and went for a walk.
Today, I start taking care of me, with a positive balanced outlook.
Care to join me?