Monday, July 02, 2012
Today is the second of July and as such that means it is time for a new monthly blog. I have decided that it is easier to write out and follow my goals if I must be held accountable to them.
This month my main goal is for increasing my freggie count. I am waiting to eat an average of 5 servings of fresh/frozen (no canned) every day.
The next goal that I want to work on this month is tracking all my food. That means that I will write down everything I eat even on the days that I can't get online to Sparkpeople. Then when I do get online I will update it. I hope to get 5/7 days every week for this goal.
The third goal that I want to work on is blogging. I am currently working on a blog on the topic of Becoming Proverbs 31 wife and mother. I really want to see that I will focus on that topic more and more this month. I am looking towards writing at least 3 blogs a week this month.
The final goal that I want to work on this month is my weight loss. I know that I am apart of a biggest loser competition so you would think that my biggest goal would be to lose weight. However I don't believe that at this time I need to focus on my weight loss as much as I need to focus on the other tasks that I have mentioned. I am hoping that as I focus on tracking all my food and eating more fresh fruits and vegetables that my weight will balance itself out for the improvements that I make in other areas of my life. I am looking for a 2.5 pound weight loss this month. I know that number seems really small however I find that if I start out small I tend not to be disappointed if I don't see the numbers move.
Another goal I have for myself but I am not worried about is my inches lost. I would love to see a change in the numbers when I do my measurements on the 20th however I am worried if I don't. If I can increase my endurance then that will be fine by me :)
Oh and another thing its not really a goal but something that I just love to do. Here is a recent picture of my cutie. I just can't get enough of her. And she has started giving kisses so its even more cute every day.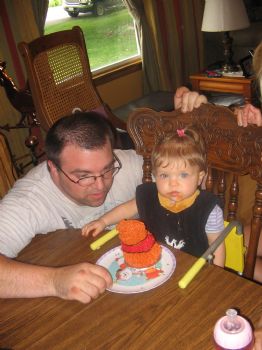 This is my husband and daughter ~ The birthday buddies!