This is another blog of listing everything Currently annoying me. Have fun!
GaH! Something is wrong with my laptop. Using Google Chrome, I Can't make "C, H and V" into lower Case letters. Every time you see them in this blog, it is because of a god-like tool known as spell-check!
My elbow is Crazy sore. Who knew you lean on your elbow and/or bend it this much during a day?? Also getting sweat in it is pretty painful (turns out, even though band-aids are waterproof, it doesn't really include sweat!). I think the bruise Hurts worse than the stitches do.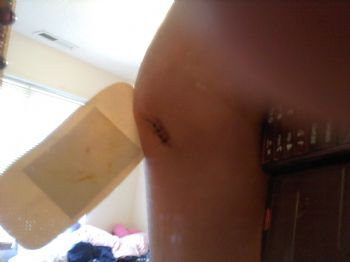 I weighed myself today. I am at 248!. WTF. That is Higher than my Highest weight to my recollection. I just started TOM, but really? Now. To be fair to that damn scale (although, who wants to do that!?), my eating Has been rather inconsistent. I've been really High. I Have been working out a lot, but I need to remember that it doesn't give me permission to pig out!
Also, I've been reading a lot of blogs lately that are like this, "the first 50 fell off so easy (or ya know, something similar)". !!!! Where is mine?? I Have struggled to loose every stinkin pound. And Had only gotten as far as 25 (last summer when I was working on a KY Horse farm). I don't want to be bitter. But I really do wish I Could Have it just a bit easier. So I didn't feel like I was fighting myself all the time.
Sad, sad ranges:
In a remote Happy note. Take a look at tHese fitness minutes!!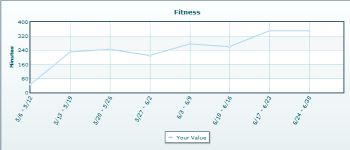 I've been watching that MTV show "Awkward". I love it. I am a sucker for an underdog. But I Have been personally struggling with the whole not-Having-a-boyfriend thing. And she as two. I Have especially Had a Hard time while playing on a Co-Ed softball team on summer, which was my Classmates and their significant other. (Last softball game was last weekend - sad!) So yeah.
The barn manager is being a bitch about me Coming out to ride. Unfortunately, there isn't really another place for me to go. And since I don't Have my own Horse, I Have to deal.
I Have a friend in town (technically the next town over) from PA. She is telling me she is incredibly busy and doesn't know if she Can squeeze any time with me in. I told Her I would bend over backwards to accommodate Her even. We were super best friends and roommates for 3 years! But no. She is too busy finding wedding Venues and Crap.
GaH! I am even depressing myself. I will measure myself later tonight after my shower and update ya'll on that. I am going to track that damned number and just re-weigh myself next week!
To end this depression I will leave you with this: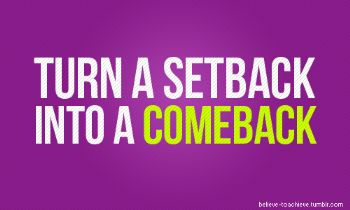 I am off to go to my riding lesson. Still Hot as Hades out there, but it will work. Hopefully, my ride will Calm my recent frustrations - Firestorm usually Has that effect on me :)