I "HEART" Oatmeal....
Monday, July 02, 2012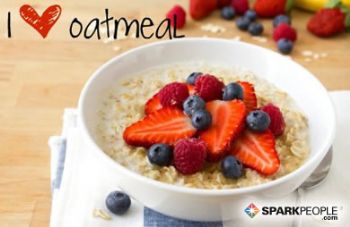 Good Monday Sparkfam! I how I love oatmeal but why don't I eat it more often? Well, the weather is too warm for one but then how do I eat other hot breakfasts? I don't know but I do. Why do they have to put all that stuff on there? I guess we all have our preferences. Do you like oatmeal? If so, how do you eat it? I take mine old fashioned, boiling water with a dash of salt, oats, sugar, cream & butter. Some times I get a little crazy & put some sprinkles of cinnamon maybe next I will try it with ginger since it also has disease fighting properties...
Today, I walked, did kickboxing for 30mins, then tonight I will lift weights for 30mins & TRY to get on that boring treadmill....
God bless & enjoy the ride!!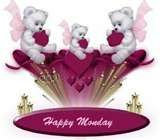 Member Comments About This Blog Post
PURPOSEPOWER95
I love it too my mother told he when I was little I called it open mill.


1893 days ago

JANTWO
I LOVE oatmeal!!!!


1905 days ago

MARVEEME
With nuts, raisins and blackstrap molasses. YUM!


1906 days ago

1COUNTRY_GAL


The best and healthiest breakfast we all should be eating more often,including me.I enjoy with some raisins.Enjoy,thank you for the reminder Diana


1908 days ago



Comment edited on: 7/3/2012 1:57:22 AM
BOO-SHAY
I love old fashion oatmeal. Boiled in water, just slightly undercooked (not as long as the package asks for) and then some nonfat milk, and some splenda, on occasion I like to put on some walnuts, and raisins.


1908 days ago

DLDMIL
I like butter and brown sugar.


1908 days ago

DJ4HEALTH
Never put butter in my oatmeal but did do cinnamon along with fruit.


1908 days ago

ANGGEL40
I love oatmeal, I add cinnamon, honey and sometime raisins..I don't care for it that much in the summer either!


1908 days ago

DBELLE39
I prefer the Old Fashioned Oatmeal made with lowfat milk, cinnamon &1 tsp peanut butter or O.F Oatmeal with Lowfat milk, & topped with berries....I don't use sugar or sugar substitute.


1908 days ago

CIERAPOET
Happy Monday Dee! Girl You ain't said nothing but THE Word. That's my go to breakfast O had the nerve to forgot to buy some when I went to the grocery store Sat. Smh I had my niece bring me some.

I use Old Fashioned or plain instant if I'm out of OF. I use Almond milk, ALWAYS Cinnamon, walnuts or sunflower nuts, raisins, bananas and strawberries. I even may drop a tablespoon of almond or peanut butter in it. I don't use all these extras every time. I use ginger sometimes also. I have a 400 cal number to reach too lol.

Love That Oatmeal! Thanks Dee!
Deb :)))


1908 days ago

GRANNYQUINN


My feeling exactly about the treadmill , you go kick boxer!! I like oatmeal, also, Cream of Rice, by Red Mill, keeps me full until lunch. Karen No , I prefer one teaspoon of brown sugar, and 1/4 teaspoon of Smartbalance? Have the fruit on the side.


1908 days ago

MELLYBEANS0919
I love oatmeal, but only during colder months. I like a variety of toppings: frozen or fresh banana, brown sugar, cinnamon, 1 egg, peanut butter, coconut, chocolate chips, berries.

I do occasionally make a breakfast 'cookie' which you put overnight in the fridge so it's cold and it has oats, milk, nut butter, toppings and banana. If you want the recipe I can send it to you.



1908 days ago



Comment edited on: 7/2/2012 8:11:00 PM
CHANGING-TURTLE
I love oatmeal eat it everyday started last month, I like it plain with 1 TBS brown sugar yum yum


1908 days ago

KKLENNERT809


Steel cut oatmeal is my favorite--lots of fiber and great tasting! I will add a small amount of almond milk, brown sugar, a few nuts and some berries. I will have to try the peanut butter and banana though--sounds interesting!


1908 days ago

GR8TAWK-N-2-U
I like oatmeal with a little honey


1908 days ago

JUSTDOIT011
I use the oatmeal packets (shhhh) pre-flavored by Quaker Oats...I like Apples & Cinnamon the best...and I love to throw on a cup of strawberry halves and a tablespoon or more of ground flax seeds. YUM! That and a glass of milk is the perfect breakfast!


1908 days ago

THROOPER62
Oatmeal with peanut butter and banana. Yummy


1908 days ago



Disclaimer: Weight loss results will vary from person to person. No individual result should be seen as a typical result of following the SparkPeople program.
More Blogs by BABY_GIRL69