I "HEART" Oatmeal....
Monday, July 02, 2012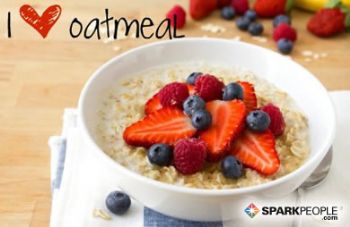 Good Monday Sparkfam! I how I love oatmeal but why don't I eat it more often? Well, the weather is too warm for one but then how do I eat other hot breakfasts? I don't know but I do. Why do they have to put all that stuff on there? I guess we all have our preferences. Do you like oatmeal? If so, how do you eat it? I take mine old fashioned, boiling water with a dash of salt, oats, sugar, cream & butter. Some times I get a little crazy & put some sprinkles of cinnamon maybe next I will try it with ginger since it also has disease fighting properties...
Today, I walked, did kickboxing for 30mins, then tonight I will lift weights for 30mins & TRY to get on that boring treadmill....
God bless & enjoy the ride!!