What a lot of effort it takes to travel, eat well, exercise, get work related stuff done and play tourist requires!
I am finally back home in DC.

The last few days were a blur of tourists activities throughout the Toronto area. It was so fun in so many ways- the lights at night on the skyline of Toronto was great, walking around Toronto Island, eating at new restaurants, traveling to Niagara Falls and just being in a new place!
But challenging in ways I was unprepared for- only packed jeans to relax in (uh...it was in the 90's most days), lots of walking and I forgotten to pack the right shoes so I had my running shoes or work shoes (and I learned after one day that my work shoes might look cute but sucked at providing support of any kind!), lugging an extra 70lbs of weight around (I haven't traveled for fun i.e. gone out and played tourist since I gained weight and I sure felt the limitations!).
I kept my exercise streak going strong and ate well the whole time and posted a 2 lb lost this morning when I weighed in (total for June was 10 lbs!!!! WOW - I exercised everyday for at least 30 mins in June and stayed between 1200-1500 calories everyday (I had 2 high calorie days of 1800) and wham- 10 lbs gone!)
Day 30- Halfway Mark!!!!!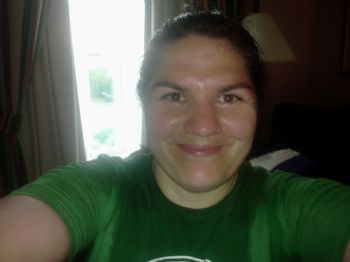 5 miles run/walk- 16 min/mile pace (well it was supposed to be 5 miles but I got lost and ended up running almost 6 miles!!!- I was so intimidated to do this run as it was so far and I was afraid of getting lost but I just pushed myself out the door and did it - I didn't even know it was day 30 until I started this blog!)
Day 31- met Adam at airport and went into downtown Toronto where we when up the CN tower to have dinner. I knew I would be tried at the end of the night so I did the elliptical for 30 mins before I met him at the airport. No real photo from right after the workout but tons from dinner!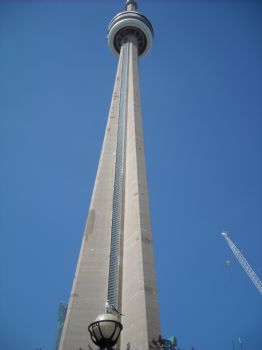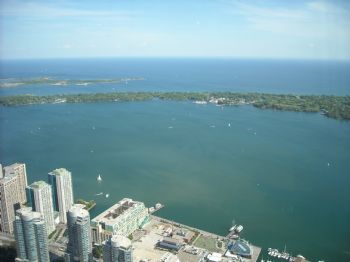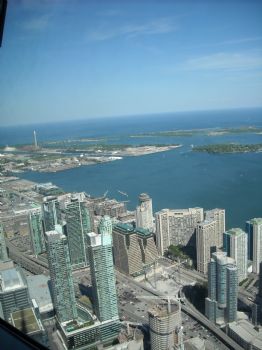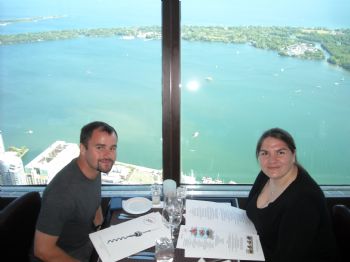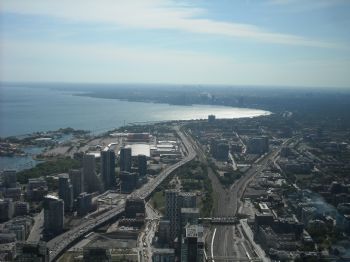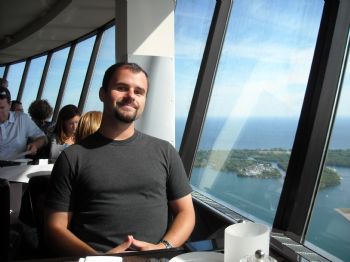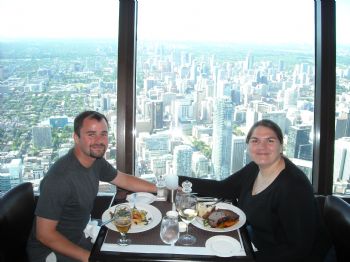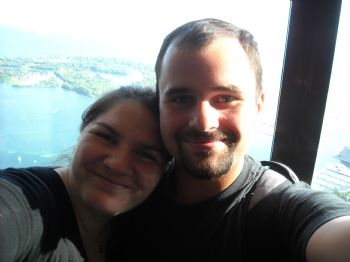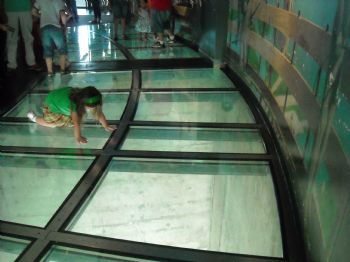 This is the world's highest glass floor that you can stand on- I'm afraid of heights and while I'm scared out of my mind to stand on it - kids were just crawling around like it was no big deal!
This is the view down...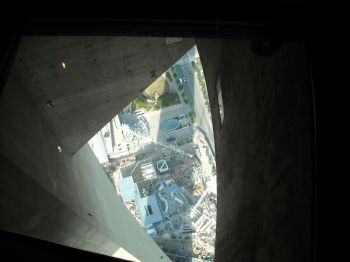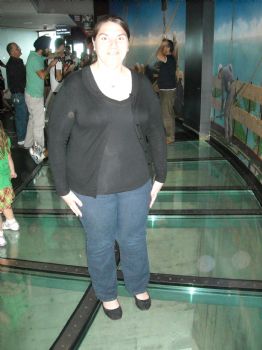 My real expression of fear...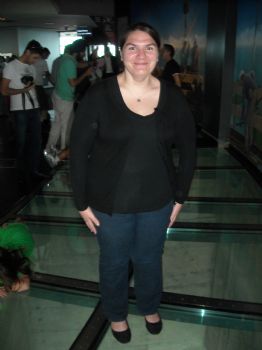 Then a brave smile for prosperity...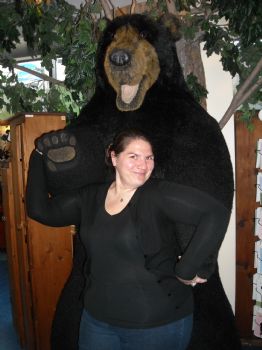 I couldn't resist the bear! Love taking silly pictures...oh wait that's right you get to see my frog picture all the time when I comment on things!
We went to see the movie Ted after dinner and here is the CN tower all lit up at night.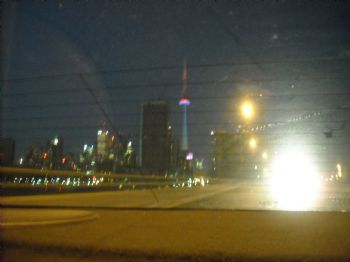 Day 32- Hockey Hall of Fame day! We are big hockey fans and really enjoyed seeing the Stanley Cup!!! I went for a 3 mile run but I was tired so it went a little slower than normal- 17min/mile pace.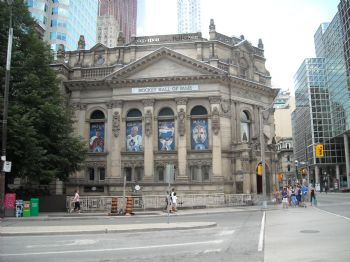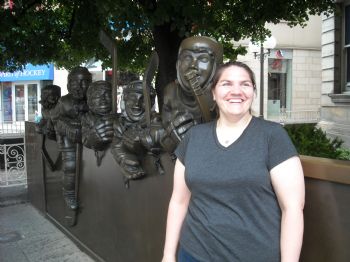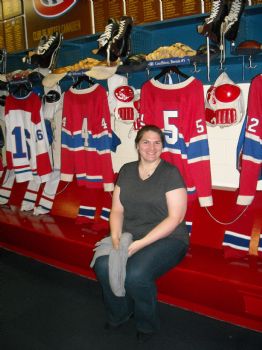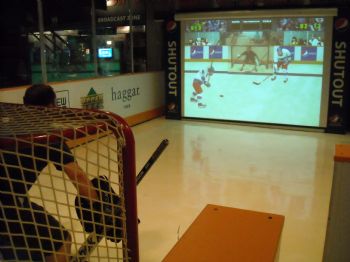 We then took a ferry to Toronto Island and have a great time walking around and enjoying the
great weather!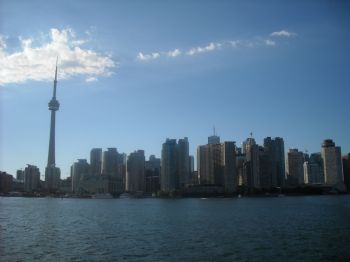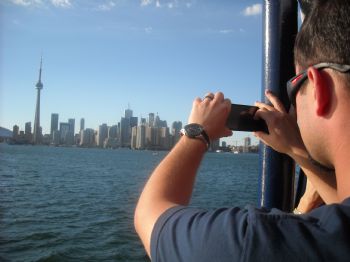 Day 33- Went to Niagara Falls - knew I would be traveling a lot so I moved my long run from Sunday to Monday (today) and did 30 mins on the elliptical. It happened to be Canada day and it was just so nice out with such friendly people - we would definitely go back to send more time it was so beautiful like a poster!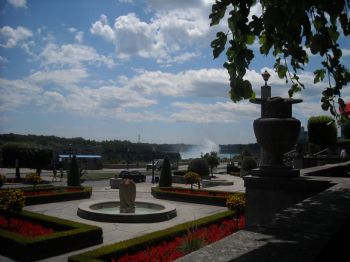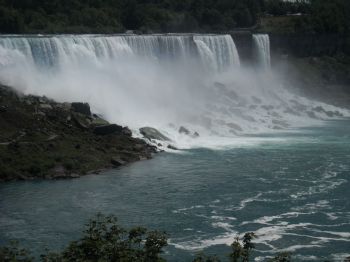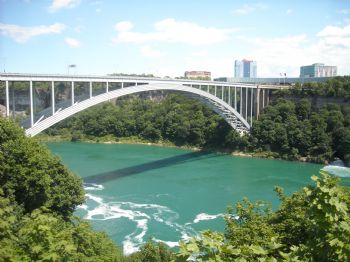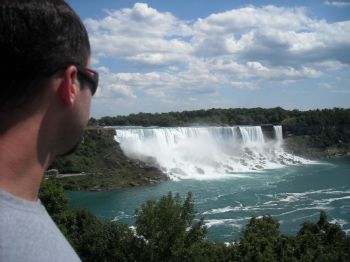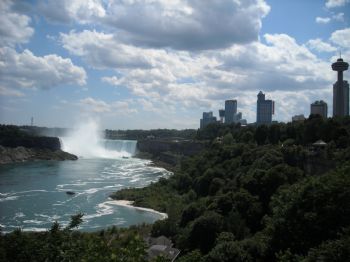 I had such a fun time! It was definitely hard but I did it and stayed true to my long-term goals!!!! Now I just have to work up the motivation to go for a run after work today -instead of cuddling with my cats after work and just enjoying being in DC as everyone gears up for the 4th of July celebrations!