I finished my first triathlon today and I finished strong. I did far better that I thought I would in spite of irregular training and just stuff getting in the way. My biggest fear was swimming since I have not really been a swimmer in my life. i went from knowing nothing about basic endurance swimming to doing an incredible job on the swim course. Out of 43 male sprint participants, I was 28th out of the water to head into transition if I read the results right. I am very proud of myself for how well I have adapted to open water swimming. When I first started, I couldn't do more than a lap or two before becoming totally winded and would have to stand up and catch my breath.
I had all this anxiety about the swim course and it would up being the easiest part of the whole race. I was actually a little disappointed that there wasnt more to do, the water was PERFECT this morning.
The transition was less than graceful but i got through it in 3 min 53 sec.. then it was off to the bike course. I knew what I was in for since i had toured the course a week earlier. About 8 miles of the bike course was really hard and my cycling was hit and miss at best but i really did good. One particular hill was affectionately named 'Cardiac Hill"
Here is a picture of it. you can see the hills and the big hill in the background but a picture does NOT do it justice. Ya just gotta be there... The rest of the hilly parts was pretty much like this as well. In a word...gruelling.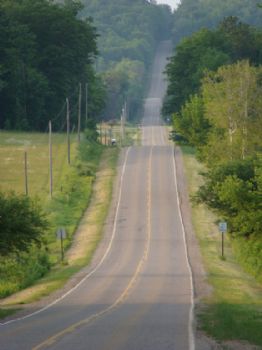 The bike course was simply beautiful and the weather was perfect for riding. I did alot of spinning to cope with the hard climbs. One of the big questions of successful triathlon is how much energy do you expend to gain in one discipline without it degrading the others. i decided to take it easy on the bike since it was so demanding so that I might have something left for the run.
I was never happier to get off the bike after such a gruelling ride through the hills. I moved very quickly through transition 2 and into the run. My T2 time was only 36 seconds.
My first few steps off the bike made me feel like my shoes had been turned into cement blocks. The only way I can describe how I felt was about how I would feel at mile 10 of a tough half marathon. I had used alot of energy negotiating the hills on the bike and now my legs felt like lead. That had to be the toughest 5K race I have ever done.
One thing that should be noted is that it was really tough to evaluate how I was really feeling on the run. I felt my usual "runners sense" as to how much effort I had left in me was skewed by the fatigue from the bike. What i felt I was doing pace-wise and what the chip time actually said were two different things. I felt like I was doing a 45-50 minute 5K with the sluggishness i was feeling. My chip time was actually 39:04, only 25 sec from a new PR for the 5K.
The race: .3mile swim / 18 miles bike / 5K run
My overall performance was-
swim: 13:55, T1 3:53, bike: 1:16, T2 36 seconds, Run 39:04 Overall sprint time: 2hrs: 13 min
-Packet Pickup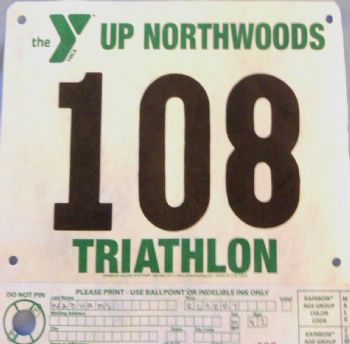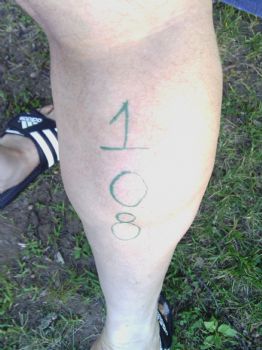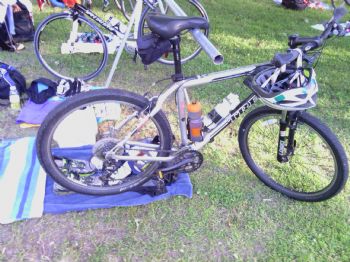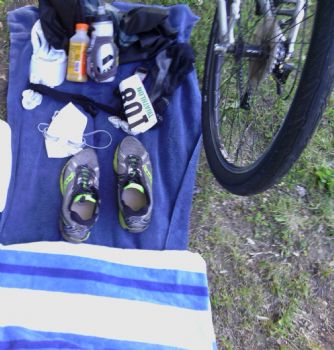 My Transition area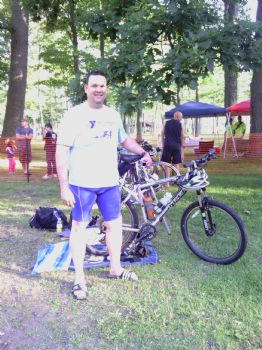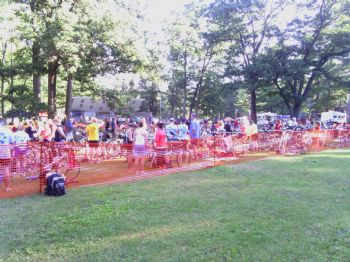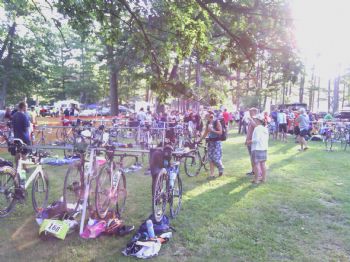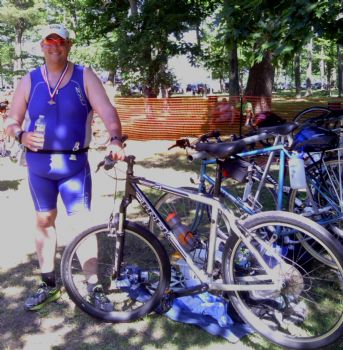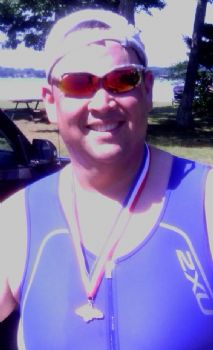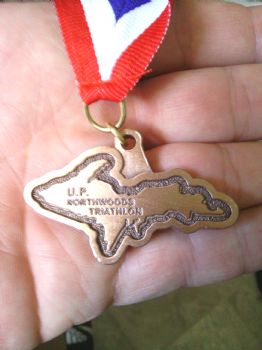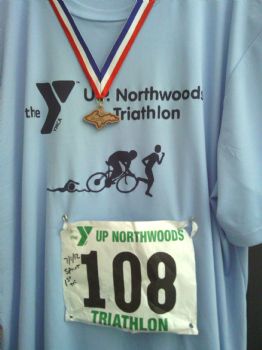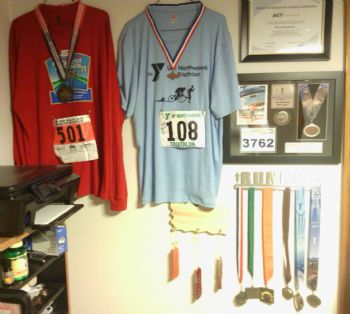 Overall, I am so proud of myself. I am really tired, sunburned, but very happy. This was a brand new thing for me and it took alot of courage to take something that I have only dabbled in and to actually compete. I'm hooked. All i can think about is what I can do to get ready for the next one. Now, for the first time, long course triathlon doesn't seem so far fetched. I can actually see myself finishing a Half Ironman in the next 2 to 3 years with consistant training. I think I can actually make this a reality.
thank you so much for all of the comments, goodies, and all the support. I read every one of them before I headed out to the staging area. i took you with me.
Love you folks :)
Robert