My Goals for Today
Saturday, June 30, 2012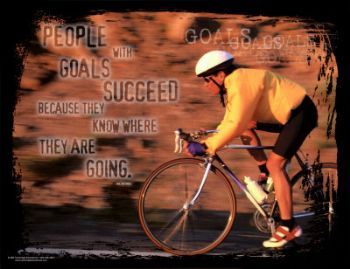 I've been reading the past blogs of a Spark member that is in the success stories. Jensfitjourney. She is so inspiring! If you haven't been to her page, go to my friends and find her and go read!! You will be so glad that you did. She has inspired me to set some immediate goals for today. They are below. She has also inspired me to write out my more long term goals so I have done that too. I might write a blog about them later. But for now below are my goals for today. Tomorrow I will report on my success.

Today's Goals: Saturday June 30, 2012
1. I will stay within my calories and nutrition according to the nutrition tracker.
2. I will complete the 52 min tae bo workout.
3. I will complete all the runners' stretchers and any extra stretches I can find for my calves
and shins.
4. I will complete 2 strength training videos from Spark. An Abs/core video and an arm/chest
video.
5. I will drink at least 100 oz of water today.
6. I will practice writing the alphabet with my toes both legs.