Saturday, June 30, 2012
Doing it. Yes, doing "IT"! What ever your "IT" is and you are kickin its arse...That's sexy! I ran today, sluggish, complaining about a sore foot, menstrual cycle, lack of pooping, but I did IT! I feel damn happy I did.
You might not be training for any kinda race but doing your IT, rather swimming, biking, walking, WT or Yoga kick ass and take names. Never make excuses, that you are sore, your back hurts, your knees hurt, your arms hurt, Aunt Flo came, just get out there and do IT! You will thank yourself after its over, Promise.
And NEVER feel self conscious about being the sweaty fat girl running beside the HOT size zero faked boobies gal, because you know what? The more miles you log the closer you will be to that same hot bracket.
Run so hard you could care less that your sweaty shorts turned into boyshort underwear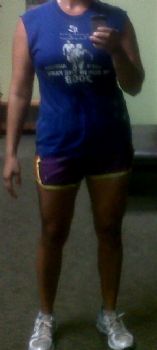 Embrace carrying a towel in your truck because you are drenched from head to toe
Sparkle friends