Thursday, June 28, 2012
Shows you how doing community shares on Facebook can lead to wonderful things. Today, one of my girlfriends "shared" a post from Animal Rescue showing a min pin mix that was at the uthinization center & was scheduled to be put down this afternoon. After seeing this post & immediately falling in love, I talked to my husband & we decided we'd take her if she was available. The Rescue folks who were going to go save 5 of the animals contacted us (actually it was one of my old HS friends) & we put the adoption in process. As of 6pm this evening, they met us in town where we picked up our sweet girl! She & Shemp seem to get along & she is the sweetest of dogs. She's already made Shemp's pen her own, LOL. Thankfully it's big enough for the both of them.
So, welcome home Miss Polly!!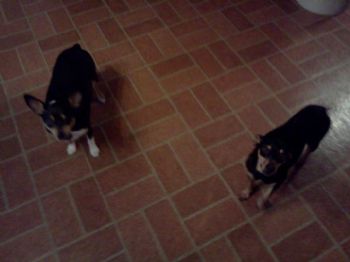 Shemp on the left, Polly on the right