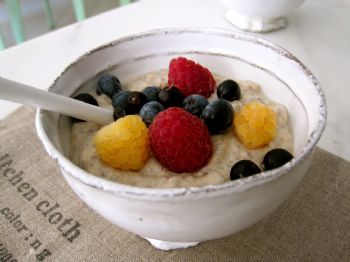 Breakfast today is CHIA Pudding. Yesterday I tried making it for the first time with 1/2 cup of Unsweetened Almond Milk, 2 Tablespoons of Chia Seeds, a sprinkle of Cinnamon, a dash of Nutmeg. The seasonings make it taste like Rice Pudding !!!
I let it sit on the counter for maybe an hour. They say it takes less time to gell up. When I went back most of the liquid was absorbed making a nice small bowl of Chia Pudding.
Pudding for Breakfast was great. It was satisfying and filled me up until about 2-3 in the afternoon. It shocked me that the mighty Chia Seed was so satisfying.
Today I am making Chocolate Chia Pudding. Since I am in mood to experiment I am going to use Raw Cocao Powder. Raw Cocao Power makes me filled with enegry, It makes me feel like moving, happy, joyful. It is loaded with lots of nutrition that is lost when companies turn it into coco powder.
Instead of using whole Chia seeds I will blend them dry into a powder in the Vitamix. Then I added 2 Tablespoons of Cacao Powder and 1 Cup of plain Almond Milk. It tasted like it needed sweetener, which I try to avoid. So I added 1 Tablespoon of Maple syrup. A dash of salt would be nice, but again I am trying to avoid adding extra sodium to the diet other than what is naturally occurring in the unprocessed foods. A Dash of Vanilla would be nice, but I didn't add it in this time.
It set up instantly, looking like smooth pudding from the store when I spooned it out of the VitaMix. I poured it into a bowl and placed it in the refrigerator to chill. Since it looks and tastes like Chocolate Pudding I wanted it cool before I eat it. WOW, Pudding for breakfast. 296 Calories. 7 grams of protein. It was filling to eat 1/2 of the recipie, which would half the calories. This would work great substituting protein powder for the cacao powder to make a protein pudding.
This is how it turned out.
Why Chia? Chia has so many nutritional properties that make it a great food to consume regularly. It was used by ancient runners for energy. Chia seed, a muscle and tissue builder and an energizer of endurance with extensive hydration properties, possesses none of the above disadvantage, and because if its physiochemical properties, supports effective treatment in immediate problems of digestion.
As a source of protein, the Chia, after ingestion, is digested and absorbed very easily. This results in rapid transport to the tissue and utilization by the cells.
Tonight I need to make up a couple of batches of Kale Chips. Kale was on sale yesterday at the grocery store, so I picked up 4 bunches. My husband, a carnivore eating man who asked "What's Kale Chips" LOVES them.
I use Chrissy's Kale Chip recipe to make them in the dehydrator. Keeping the temp at 115 degrees helps to preserve the nutrition in the kale. Kale and Tahini are high in calcium.
Ingredients:
2 head Kale, Washed and Torn
¾ cup Tahini
¼ cup Nama Shoyu
½ cup Cider Vinegar
½ cup Water
2 scallions
1 clove garlic
1 lemon (juice of)
¼ teaspoon Sea Salt
¼ cup Fresh Parsley (I use the whole bunch without the stems)
Preparation:
Place kale in a large mixing bowl. Combine the rest of the ingredients in a blender and blend until smooth to get a thick consistency. You may have to add more water. Pour over kale and mix thoroughly with your hands to coat the kale. You want this mixture to be really glued onto the kale.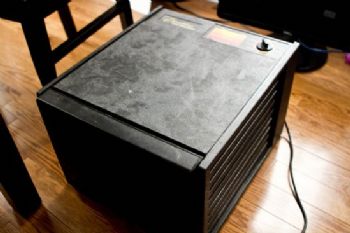 Place kale onto a Teflex sheet, on top of a mesh dehydrator screen, and dehydrate for 6 hours @ 115 degrees. You'll need to use two trays. Rotate kale occasionally to dry uniformly.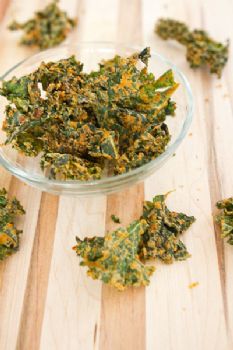 I haven't calculated the calories in this recipe. Usually I don't get very much to eat as my husband eats most of the recipe before I can.
Workouts today are Leslie Sansone Walking DVDs, as many as needed to get up to 10,000 steps and Yoga.