Thursday, June 28, 2012
I spent today off my feet with an ice bag on my ankle throughout the day as my doctor ordered. Nothing exciting happened unless you count the two cats getting acquainted with my grandson's new frog as exciting.
On Tuesday, DH and I bought the little guy a new Red Belly (Fire Belly)

to go with the one he already has.

He named the new one Superman and his other is Superfrog. Superfrog has been with us for a year.

My husband and I are the designated froggie caregivers since both the little guy's mom and dad are non pet friendly. Hopefully this will change come time for the gerbils, hamsters, lizards, bunnies, ...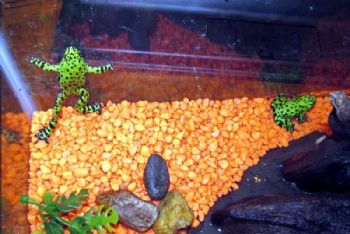 HELP!!!! A stranger has broken into my pad. Quick! Call 911!!