Thursday, June 28, 2012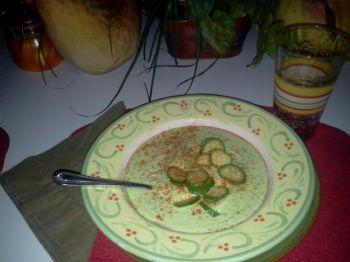 Today I made the Cucumber Avocado Soup featured on Spark People Recipes.....I loved it ! I followed the recipe with two exceptions...I added one cup of buttermilk and I used about a half cup of ice instead of the water and I added 2 tablespoons of Fat Free Cream Cheese. I topped with fresh sliced baby cukes and red pepper...for some zest. Give it a try.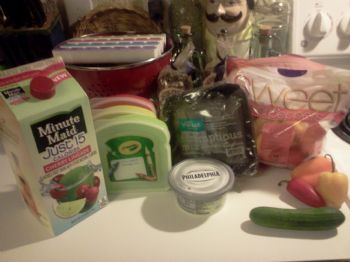 Here are some of my"Shopping Finds" this week....small red, yellow and orange peppers in a bag..I have had them a week already and they are as fresh as the day I bought them. They have hardly no seeds in them and a couple is the right size for an omelette for one or a sandwich. Next is a package of baby cucumbers...I am crazy about these little gems. Package had six or eight mini cucumbers which have no mature seeds... Have I mentioned the drink by Minute Maid called Just 15....it has15 calories for a cup...tastes great with no after taste...yes it has aspartame, for you who have problems with it. I mix this with a yogurt for a great smoothie. Next find is fat free Cream cheese....great on veggies like celery and carrots 30 calories for 2 tablespoons. I added 2 tablespoons full to my cucumber soup I made ..above.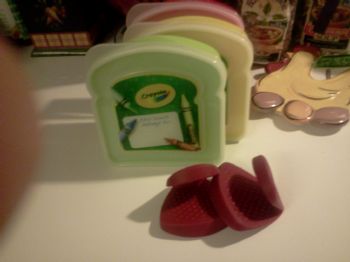 I also found these cute little silicone holders for taking things out of the microwave or oven....they are small....but useful. Last find of the day is these cute little sandwich box to seal in freshness....they were on sale for $1.50 each. They have a place to write your name on the front. I do not normally pack a lunch but a lot of time I am cooking for one. This will be great for that extra piece of meat or fish that I had to cook because I opened the package....and that little label on the front is ideal for putting the date or what is in the box. Tonight it was extra fish I baked.
Well that is about it for today. I just thought it might help y'all so look for the things at your WalMart.