Thursday, June 28, 2012
My lovely friend in the Fruit and Vege barn suggested I try Palm sugar last week!! She said once I tried it I would never use cane sugar again!!
Maybe – I tried some – Its definitely Yummy – sort of sweet caramelised sweet – and a lovely flavour in things like Tapioca or Rice Pudding!! Its prized by the Asians and used in most Asian dishes.
Its expensive though and it drove me crazy having to grate off ¼ cup from the solid block it comes in – before I could use it!! We are maybe too used to convenience of granulated sugar!!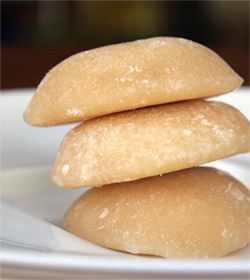 I decided to use some in a recipe and had to check the calories – discovered its far, far lower in calorie than cane sugar – so started researching it more fully
Palm Sugar comes from the date palm and is also called Jaggary – it has a low glycemic index level (far lower than cane sugar) and contains countless minerals – and is lower calorie than cane sugar, as such its interesting as a sweetener. I like the taste too.
en.wikipedia.org/wiki/Pa
lm_sugar
and
www.palmsugar.com/index.
htm
and
www.naturalnews.com/0289
96_palm_sugar_natural_swee
tener.html
I discovered that there is a difference between Palm sugar that I am referring to and Coconut Palm sugar that you get in USA!!
In conclusion – I would certainly use it again – but because of cost – in moderation. I have to pay $7.00 per 500g (1lb) – but its maybe possible to get cheaper if one looks about!!
EDIT:
Palm sugar is listed in Wegman's store list - selected stores only - so if you are interested - give your local store a ring to check - otherwise an Asian/Chinese grocery would stock it.
A really yummy recipe for Tapioca unlike any other I have ever had using Palm sugar - (though you could use brown sugar) -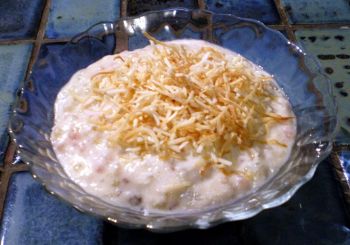 can be found at
recipes.sparkpeople.com/
recipe-detail.asp?recipe=2
151610
Enjoy