I am busy with renos and going back and forth between here and our place in Washington. I am assessing how I am doing compared to my blog 'Strategies to Stay on Track for 56 Days of 5% Challenge'.
I copied it to review here.
List YOUR reasons/excuses on why YOUR diets and exercise plans have not been well executed in the past.
1) I lack consistency.
I will setup a weekly calendar and a daily checklist for exercise and food.
(WORKING ON IT - I have exercised daily. I need 2 separate routines, one for at home and the other for when we are at our place in Washington.)
2) I get lazy.
Leisure time will be my reward for exercise.
(WORKING ON IT - need to try harder. I feel guilty because I know I should do more. The spring and now summer has been so cold, and it's a disincentive to do more around the yard/house. I will put the furnace on and dress warmer. If I feel lazy I will make a point of going somewhere like the gym, library, etc. for an hour to get energized and then get back at the work.)
3) Low impulse control.
I will eat at home and prepare my own meals.
(WORKING ON IT - did eat out after church and today 'there is nothing to eat mentality'. I need to shop for groceries more often. Later this week I have trip to Whistler which includes eating out at least 3 meals and staying at the Fairmont Chateau Whistler Resort. We are taking the train and will walk, so I will get exercise. The restaurants will be quite expensive so that will help limit some of the food choices - no desserts, etc. Just checked Trip Advisor and the restaurant does not sound good, so I will be walking to other places.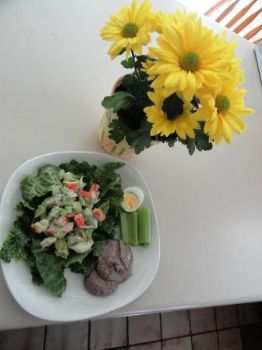 I need more meals like this - seafood salad, black beans, etc.
I know I will do it!