Isn't it amazing how quickly a puppy can worm their way into your heart? Just 24 hours after arriving home with 6-week old bull dog Lola, I am head over heels in love with her. This is her taking a nap on my lap as I write this: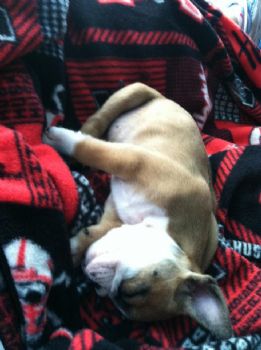 Although she is my son's dog,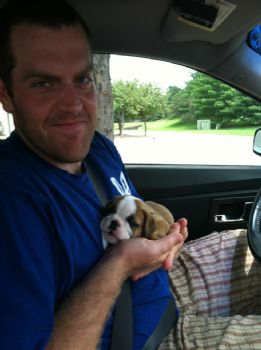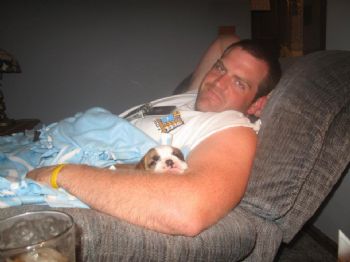 and he adores her every bit as much as I do, today she is showing a definite preference for me. I'm sure our closeness will only grow as son is scheduled to return to work tonight and I am home all day long with her alone for the next almost two weeks.
I find the human capacity for love amazing. As I had each of my three sons I had more love for each of them and as my grandchildren have arrived there is lots of love for them too. I loved every pet I have ever owned over the years as well but always recognized they were PETS not people, but I think perhaps Lola might be the exception to that rule.
This is on our ride home yesterday.
So far she seems to be perfect. Oh she had a couple of accidents but has also "gone" outside every time we take her out and that is OFTEN! Walking in the grass seems to make her realize that this is where she could go, so we've got a real good start with the housebreaking!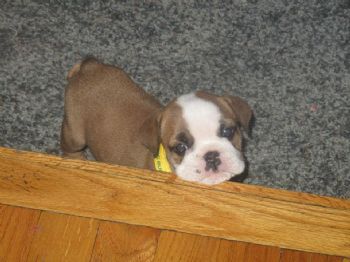 The one step up from the family room into the kitchen is too much for her right now.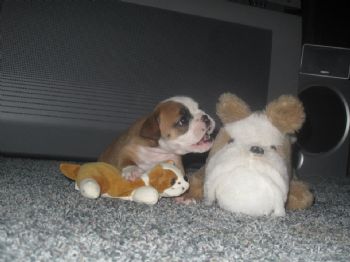 She enjoyed getting to know our other bull dogs and letting them know that SHE is in charge!
We were worried last night when we put her in her new kennel that she would cry all night, but she never made a sound, and even used the pee pad we put in there for her! It's a long story but the people we bought her from took her momma and her 8 litter mates back to Kansas where they are being sold through the owner's mother, who is the actual bull dog raiser, a week ago, so Lola has been alone with them for this last week. Thus she was used to sleeping alone which is sure going to make our lives easier.
She went on our walk with son and I this morning but we carried her most of the time and she slept. It won't be long and she'll be walking right along side of us the whole time.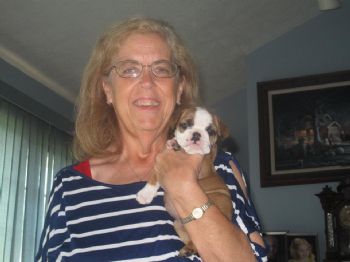 I LOVE LOLA!