My normal diet consist mainly of frozen pizza and other processed foods. I tried healthy eating many times before but it just seems like all the healthy foods I really like are also the expensive foods, and I'm a girl on a budget! but really, doesn't being so unhealthy save money in the long run? Probably not, what with health care costs.
So, that said, these are my adventures in healthy eating so far. My normal breakfast has been a low fat raspberry yogurt and a bowl of special K in skim milk, and my normal lunch either a bagel and cream cheese or some leftovers. Could it be even healthier? Sure it could, but then I wouldn't want to eat it! At least these things taste good and I'm able to stick to eating them.
Supper is the tricky part. It's not a structured since I don't have a limited time period to eat it in so I can have more variety since I have more time to prepare it. Also, since this healthy eating started Sunday when I went grocery shopping I still have some less healthy food left in the fridge and pantry. Not being the wasteful sort, I don't just want to throw it away since it is still good, so I'm working on ways to consume that as well.
I'm thinking that if I were to share a picture of my dinner every day (breakfast and lunch being pretty much the same everyday) it would help me on my way to becoming the healthy individual I would like to be. I've never been able to keep a steady dairy/journal/blog going before, but then what's the harm in trying? There isn't any. And there's a lot of good if I do follow through. So with nothing to lose, here goes...
Dinner from 6/24/12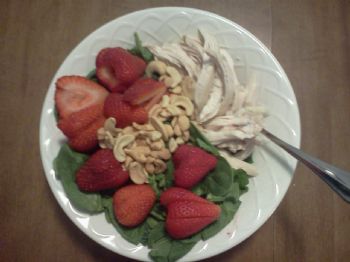 And dinner from 6/25/12.
The spinach was a managers special since it was almost expired so I had to eat it fast. The strawberries and chicken were on sale, but the cashews were the expensive part. (No dressing, it just adds calories and I don't like it that much anyway). On the other hand, I ate salad two days in a row. If you knew me you would know that that has NEVER before happened. Truth. I've never much liked salad, in fact I usually call it rabbit food. but these were pretty good, and I'm thinking I might pick up some more next time I go to the store.
2 days down, a life time to go...