Look what Audrey got in the mail from one of our SparkBuddies--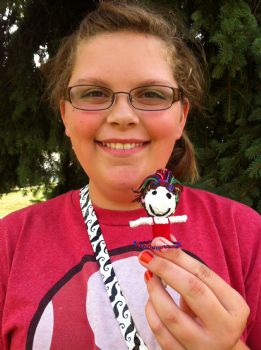 Two cute lil hoopers. (Note the mustache-themed strap that goes to the duct tape purse Audrey made. Clever girl.)
Some of you know that Audrey designed a hooper string doll for a contest. She came in second place. The top two vote getters were both 13 year olds, which we thought was pretty cool. There's still a slim chance that they'll make her doll, someday. But, in the meantime, a super sweet SP Buddy made a doll, based on Audrey's design. Isn't she the cutest?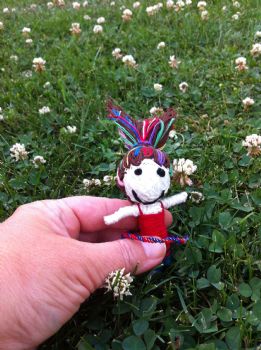 "Holly Hoops" See her little hoop? And ya gotta love the rainbow ponytail!
Thanks, THESUGARFAIRY!!! You totally made Audrey's week, mine too. SparkBuddies make the world a little bit smaller and a lot friendlier.
Speaking of buddies, I took Audrey and one of her best buds to the park yesterday and we shot a Seussical hoop video. I love teenagers who're still willing to do things like this. Of course, they're both in a production of Seussical this weekend, so you don't have to twist their arms too much to get them to ham it up. We had a blast. I hope to start editing tomorrow, so I can share our fun with y'all. They were playing around with the props after we finished and built this--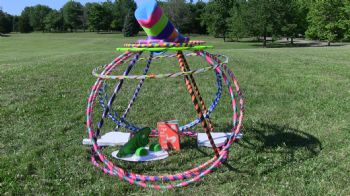 Seuss Approved Hoop Hut
Oh, and today is Day 450 of my exercise streak! I ran on the elliptical this morning and I have hoop class this evening. It's going to be an interesting class. We're all supposed to bring any hand percussion instruments we have and we're going to hoop and make music! I'm taking my cajon (the box drum you sit on and play--don't think I can hoop and drum at the same time...) some shakers and stuff. I love that my hoop instructor comes up with classes like this. You just never know what's around the corner; that's what makes it fun.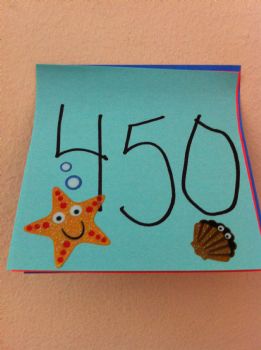 Spark ya later! (My SparkBuddy, Jodi sent me stickers for my post-its. Nice touch, don't you think?)