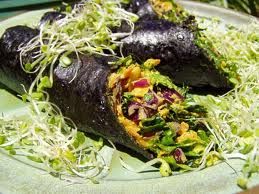 Insanity is doing the same thing over and over again expecting different results. Well eating NORMAL foods wasn't working. I wasn't feeling any better, in fact I kept feeling worse and worse, weaker, feeling like crap. It was time to make a major change.
SO I WENT RAW. It's not new to me. I have done it in the past, but this time I feel like it is making a major difference in how I feel. Maybe it is because I have gotten sicker over the years.
I experimented several days eating the prescribed raw fruit diet with some greens. I felt great eating this type of food, it was challenging trying to get up to 1200 calories just eating fruit and veggies. No nuts other than hemp nuts were allowed. My stomach was stuffed. I wasn't hungry, but I still got cravings for some cooked foods like cheese.
When I added in cooked foods, even one meal a day the MS acted up big time. It hit so hard that I slept for a couple of days straight. I could barely walk after eating some of my meals. When I read the ingredients on the package, I realized all those added ingredients were contributing to my poor health.
When I went back on the raw foods, the symptoms decreased. My energy improved greatly and my overall strength improves a bit, my balance is better, I can walk further. It's Enough that it gives me HOPE that if I stick to this that the MS symptoms will go away or at least be more manageable. It feels like the diet is decreasing the inflammation in my body. Hopefully it will start repairing itself, rebuilding the nervous system.
I signed up for the Raw Food Boot Camp hoping for support. It's an expensive on-line program which I had hoped would make a difference in my commitment in eating raw food, providing wisdom, new ideas, new friends, good recipes, ways to combine food to help me feel better. You know a girl always needs great low-calorie tasty raw food ideas. You get the idea. I wanted support in reaching my goals.
The group I was put with was the under 35BMI. I learned afterwards the owner prefers to work with extremely obese ladies and will be discontinuing the under 35 group. She says her true passion lays with the obese. I don't know if she really applied herself to encouraging and motivating this under 35BMI group. Maybe it was reserved for the obese group, with her true passion. There were maybe 3 ladies there in the under 25 BMI group. So there was not much activity at all in the group. The only action that happened was doing out mandatory postings. If you didn't post you would be kicked out with no refund. They keep your money whether or not you post or if they kick you out of the program.
We had a short under 15 min. audio that we listened to 5 days a week. Some inspirational others not so much. We had daily discussions to post in, but there wasn't really a discussion among us ladies of how we were really doing. Of course we have our three times a week weigh in, but not much discussion among members. Some days only one person posted. I figured why bother to post much. Then I started posting more hoping that someone else would post so we could cheer each other on. Well, I am still hoping for support.
We also kept a discussion with the group leader of our exercise and diet. I figured the accountability would help out. Being hit with MS, I had told her my workouts were a struggle due to weakness and pain issues. I had hoped I could keep up with the required TWO hours of walking a day, when I struggled to do 20-30 minutes. Even with breaking down the workouts - into sparks, I couldn't do it. My feet hurt too much with that many hours of walking, my muscles were weak due to the decreased ability of my nervous system to send the messages to my legs to move. It wasn't a lack of desire, but more of a lack of ability to complete the requirements. There was a few days I was able to do the two hours of walking, but the next few days I couldn't sand up without assistance. My body was so weak from overdoing it, I couldn't be consistent with the exercise. So I went back to doing shorter 30 min. walks and moving as often as possible through out the day.
My wallet is smaller from paying her the just under $200 for a place to post what I have eaten and my workouts for 6 weeks. I was not impressed. (I could of done it here for free.) I was lucky if she wrote a sentence a day to me. When I ate garbanzo beans I posted oops, as they are cooked. Her reply was there is no oops, it is a choice. Yes, I made the choice to eat them on my salad, but I really would of loved to have heard more from her. I thought it would discuss things like she mentioned about dealing with cravings, temptations, healthy substitutes, great ideas about dieting, and other workouts that I could do without overdoing it, honestly. At least it seemed like she mentioned this. When I was pondering if I should sign up for the program I emailed her asking questions. She was very friendly and prompt with the responses, but online, on her site after paying the fee I get one or two sentences remarks. Heck, where is the support?
Maybe joining the raw food boot camp made me stronger by realizing I don't have to have anyone else cheering me on. (Though I would love the cheering.) I realized that it is totally up to me to make the changes, to be accountable, to post my meals and exercise. That isn't a surprise. I already knew that. It's just I had hoped for support from others eating in the same way as I was and some more knowledge as to the ins and out, nutritional support, knowledge. It wasn't there.
Due to my frustration, I hit the books reading, trying to figure out the nutritional puzzle alone. I ended up spending more money on books searching for low calorie, low fat foods. Even thought it is great to eat a meal of 4 nectarines, or 3 oranges, or a watermelon I wanted some recipes and understanding the ins and outs of how the raw food diet worked. Money that I shouldn't of spent, being that I spent it on the boot camp. Sigh.
I came to realize that no matter what diet one chooses on there journey they are all hypothesis or educated guesses on how to loose weight and improve your health, otherwise why would there be so many dang diet books out there? (After all in nursing school in all the pharmacological classes all the books said they HYPOTHESIS how medication worked. Ya, they sell all that stuff to the population without know how they act fully. It's all a guess.) I know this is off topic, but when I spoke to the instructors they said they really don't know how medications work, it's all hypothesis or an educated guess.
Posting on Spark, I get more support than I ever did on that expensive program. It was a learning experience. I learned that that all the flashy ads and photos can be deceiving about all the people who lost weight. It wasn't worth the expense.
Here is where my friends and support system is.
So off to another day of Raw food. Experimenting with making low-calorie healthy meals that fill me up.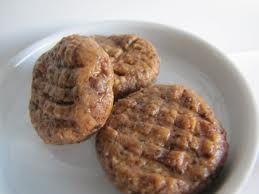 I made these raw almond peanut butter cookies.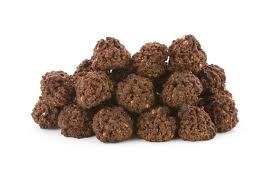 I also made some raw chocolate macaroons.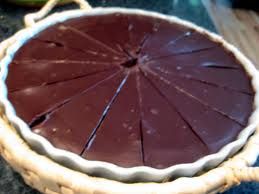 Followed by Chocolate Ganache. YUM !!! The raw Cacao made me hyper so I got lots of house cleaning done! It only took a teeny tiny piece to totally keep me on track with the diet. Everything else was fresh fruit and veggies. Today I am down 4 pounds.