A few weeks ago I posted a blog regarding how I was shocked/horrified on seeing my triathlon race photos.
Since then something happened. My views have slowly been changing (without me noticing) on how I view my photos. What caused these changes?? It was fellow sparkers comments & a website, pintrest (can you believe I just finally decided to browse this site).
Anyway while browsing I came across this picture:

This picture describes my problem to a tee...I 'feel' like the top photo, I just don't 'look' like the top photo and that's what upset me. It's hard to think you look one way, only to realized...nope you don't.
Another photo struck a cord with me (later on):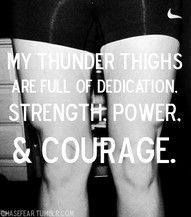 I laughed when I saw this photo & thought - yeah that's the reason for my thunder thighs. hahahahaha. And then kinda forgot about it (till later).
Thursday I got an email about my recent 10km race...photos were posted. I wont lie...I was scared to open the pictures. When I finally found my picture the first thing I noticed was my right thigh!!! I don't know if it was the angle or what, but man did it look good. I was mid stride & it looked muscular & strong. It's not the best photo of me from the waist up, but damn my legs look good (I couldn't stop gawking) & I'm waving & I'm smiling &...I look happy. I didn't even want to delete the photo (this is a HUGE step for me, because I finally focused on the positives instead of the negative).
On Saturday I was on my computer & organizing my pictures (long overdo). And there it was...the dreaded zip folder of my tri pictures taken by my friend. GULP!!! I should just delete the folder & save myself the pain? No..I need to face this...so I opened it. And you know what...the pictures aren't that bad. I was looking at them differently. Then I thought of this picture: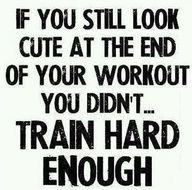 According to that, I must've worked super hard!!! lol. But for the most part...they were alright. I will admit...I did delete one very unflattering photo. Baby steps.
I went for a 11km (LSD) run on Sunday & I started thinking about the thunder thighs photo & I realized...'My thighs may be bigger than most...BUT...my thighs have taken me though
2-HM's (currently training for my 3rd), 3-10's, 1-Tri, 2-185km bike tours, 2-80km bike rides & lets not forget ALL the training to make these events possible. They ARE full of STRENGTH, POWER & COURAGE.
Instead of focusing on the negatives, I need to start focusing/looking at all my positives. It's not going to happen overnight. But I'll eventually get there.