Today was a very active day! It felt great. Met a friend at Curves this morning.
After Curves I picked up my husband's 14 year old cousin and we all went to the park to play soccer.
After soccer, we played on the playground. I got in another 25 minutes of "playing with kids" and I tracked it in the fitness tracker.
I burned 434 calories today! That may not seem like a lot but it is for me!
Tomorrow morning meeting a friend for a run at the beach!

I am determined to stick to my fitness plan for this week! I am taking extra measures to make sure it happens.
1. waking up early and making fitness happen in the morning before the day gets in the way
2. stick to my fitness play NO MATTER WHAT. No excuses.
3. being consistent. Thanks to LDRICHEL's blog I realized I have not been consistent. Consistency is KEY to success!
4. looking for activities to enjoy IN ADDITION to my regular workout. (today, playing soccer with my family and playing at the park were extras. I wasn't relying on them for my exercise today. I learned that yesterday when I tried to run with my hubby and daughter...)

5. logging in to Spark People, checking in with friends, blogging, tracking my progress and meeting my goals for the week!
My daughter with headphones so she could listen to music like Mommy!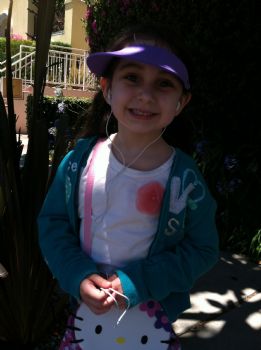 Jungle gym...we had fun running, jumping, swinging, climbing all over the playground!