I've spent years at the "diet mall". I've counted calories, points, dealt cards, bought pre-packaged meals, made cabbage soup, drank grapefruit juice before meals, tried both extremes on carbs/fats. I've read dozens of books, participated in study groups, danced, walked, swam, downed gallons of water and even went to an Obesity Clinic. I would have success on just about every one of these plans. Many have had great success on all of these.
There was one basic problem (with me). I viewed all of these as a temporary deprivation to a desired end. You know what I'm talking about. I would say things like this: I can't have bread today but after my weight is off... Once I get the weight off I won't have to eat these tiny portions... When I'm thin then I can have the nachos.
Do you see the problem? I was plugging the hole in the dike with my finger which would temporarily make a difference but the minute I pulled it out or even loosened it the flow would start again.
The reason all this matters is that until you are ready to make a LIFESTYLE CHANGE you will have great difficulty achieving your goal and SUSTAINING it.
I have lost up to 80 pounds before. I put it all back on and THEN some. I do not want to return to this:
This was not even my top weight. I guess I hid from cameras at that point. Ha! I know that I will never eat like I did then. I know I will always have to step on the scale, count calories (or points), make BETTER choices and exercise. ONCE I was able to grasp the notion that this is my new life I left that "temporary deprivation for desired outcome" mentality behind.
I don't feel deprived now because what I desire is HEALTH. When I see a chocolate cake doughnut does it tempt me? Of course! BUT - now I want the health and wellness more. THIS is my new life. THIS is my new "normal".
This is me now: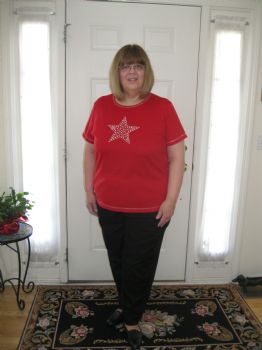 I like the "new normal".
Join me! The journey continues...